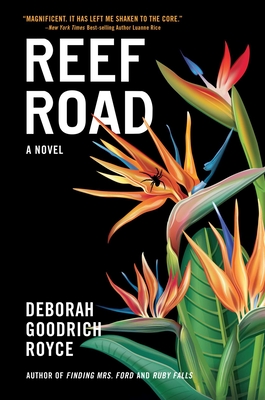 Reef Road: A Novel
Publication Date:
January 10th, 2023
Publisher:
Post Hill Press
Usually Ships in 1 to 5 Days
A brilliant thriller that taps into an unsolved true crime story. It is masterfully written through two points of view, which expose the impact of violence and family trauma. I can already say this is one of my favorite books for 2023.
January 2023 Indie Next List
Description
A Publishers Weekly Bestseller
When a severed hand washes ashore in the wealthy enclave of Palm Beach, Florida, the lives of two women—a lonely writer obsessed with the unsolved murder of her mother's best friend and a panicked wife whose husband has disappeared with their children—collide as the world shutters in the pandemic lockdown of 2020.
"Reef Road is magnificent. It feels utterly real, a novel of deeply personal context. It swerves between truth and lies—the lies that lead to an even deeper—and more devastating—truth. Though pure fiction, it reads as compellingly as a mixture of memoir and exposé. It has left me shaken to the core. Deborah Goodrich Royce writes with brilliant understanding of the mystery and occasional grace of trauma." —Luanne Rice, New York Times bestselling author
A young woman's life seems perfect until her family goes missing. A writer lives alone with her dog and collects arcane murder statistics. What each of them stands to lose as they sneak around the do-not-enter tape blocking Reef Road beach is exposed by the steady tightening of the cincture encircling them.
In a nod to the true crime that inspired it, Deborah Goodrich Royce's Reef Road probes unhealed generational scars in a wrenching and original work of fiction. It is both stunning and sexy and, like a bystander surprised by a curtain left open, you won't be able to look away.
Praise for Reef Road: A Novel
"Royce keeps the plot twists coming as she vividly depicts the uncertainty and mistrust generated by the pandemic, which drives both Linda and Noelle inexorably toward madness... This is an expertly paced thrill ride."
— Publishers Weekly
"Royce's murder mystery, involving generational vengeance in the time of Covid-19, would make the ancient Greeks proud. Royce is a wicked good writer…the gears of this clever plot mesh like those of a Swiss watch. A truly absorbing mystery by a writer at the top of her game."
— Kirkus Reviews (starred review)
"Reef Road is magnificent. It feels utterly real, a novel of deeply personal context. It swerves between truth and lies—the lies that lead to an even deeper—and more devastating—truth. Though pure fiction, it reads as compellingly as a mixture of memoir and exposé. It has left me shaken to the core. Deborah Goodrich Royce writes with brilliant understanding of the mystery and occasional grace of trauma."
— Luanne Rice, New York Times bestselling author
"Reading Reef Road feels like bingeing a particularly addictive true crime series. Mysteries intersect in this haunting page-turner as Deborah Goodrich Royce explores the ripple effect of violence, generational trauma, and the emotional weight of a case gone cold."
— Megan Collins, author of The Family Plot
"Superbly written and elegantly structured, the oh-so-talented Deborah Goodrich Royce brings her unique voice and mesmerizing style to an altogether original novel of suspense. Instantly immersive and deeply felt, Reef Road is both intensely personal and powerfully universal. Royce creates a haunting (and surprising!) portrait of a troubled wife—and the relentless writer on the trail of her past. I could not put it down."
— Hank Phillippi Ryan, USA Today bestselling author of Her Perfect Life
"Reef Road, a taut, expertly-crafted psychological thriller, grabbed me from the first page and kept me hooked with its many dark twists. Set in Palm Beach, Florida, during the strange, locked-down days of Spring, 2020, the novel alternates between two narratives: an unnamed mystery writer, who is researching the murder in 1948 Pittsburgh of her mother's childhood friend, Noelle Grace Huber; and Linda Alonso, the unhappily married mother of two young children. As layer by layer is peeled away, the connection between these two women and the long-dead girl is revealed—and along with it, a powerful rendering of how trauma from one violent act can reverberate for generations."
— Virginia Hume, author of Haven Point
"Reef Road is a daunting masterpiece. A plot-driven thriller inspired by a real unsolved murder that you won't be able to put down. This atmospheric thriller satisfies. A stunningly dark read."
— Rea Frey, award-winning author of Secrets of Our House
"Taut and suspenseful, Reef Road reveals how one horrific act of violence can reverberate through multiple lives, even generations. Based on a real-life event, this book will keep you turning the pages well into the night as secret upon harrowing secret unfolds."
— Wendy Francis, author of Summertime Guests
"Reef Road careens from a decades-old unsolved murder in Pittsburgh, to a grisly discovery washing up on the shore of the breezy, ocean town of Palm Beach. With expert touch and nuance, Deborah Goodrich Royce weaves the lives of a novelist searching for the truth, a bored housewife, and the menacing figure of a man or two, through the claustrophobic, early days of the COVID pandemic. The result is an asteroid-like collision of deceit, guilt, and greed in an unexpected, stunning climax that will stay with you long after you finish reading. A page-turning, incredible read!"
— Brian Cuban, author of The Ambulance Chaser
"In Deborah Goodrich Royce's propulsive and riveting novel Reef Road, nothing is what it seems. You will keep turning pages into the night, unraveling the threads of two women's intersecting lives to reveal a shocking act of violence and the devastating reverberations that echo decades later."
— Mary Dixie Carter, author of The Photographer