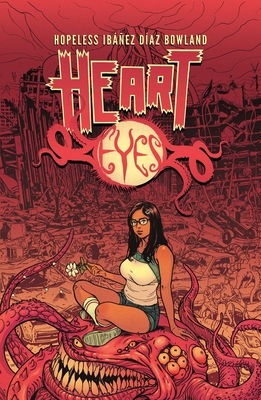 Heart Eyes: The Complete Series
Publication Date:
July 18th, 2023
Usually Ships in 1 to 5 Days
Description
A post-apocalyptic monster story teeming with horror, Lovecraftian-inspired monstrosities, romance, and one devil-may-care teenager named Lupe who is much more than she seems. 
SMILES HIDE WHAT LURKS BENEATH.
Sanity-eating monsters ended humanity. The unlucky few who survived now hide in the cracks of a broken world. And yet somehow, beneath the graveyard that used to be San Antonio, Rico met Lupe, the girl of his dreams - and an enigma. How did she get here? And why is she smiling? No one survives out in the street. No one smiles where the monsters lurk. But Lupe does.
Join teenagers Rico and Lupe as they journey through a the desolate landscape of monstrous devastation - and their own obstacle-ridden relationship.
Heart Eyes explores themes of loneliness, mental illness, being your own worst enemy, and human connection reflecting the pandemic and post-pandemic world in which we live.
For fans of Lovecraftian monsters and horror, weird romance, post-apocalyptic fiction,Caitlin R. Kiernan (Houses Under the Sea ,The Tinfoil Dossier series, Vile Affections, Tales of Pain and Wonder, Daughter of Hounds, Alabaster, Comes a Pale Rider), the Ellen Datlow-edited Lovecraft's Monsters, James Tynion IV's Something is Killing the Children, Robert Kirkman's Oblivion Song, Scott Snyder's Undiscovered Country, Bad Girls, Rick Remender's Low, Justin Jordan's The Spread, and Human Remains.
Collects the complete five-issue series.