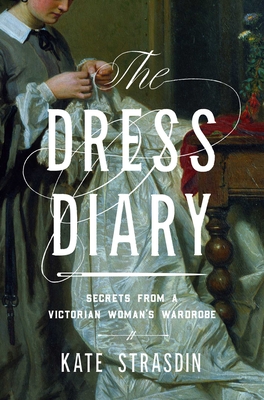 The Dress Diary: Secrets from a Victorian Woman's Wardrobe
Publication Date:
June 6th, 2023
Heartleaf Books
1 on hand, as of Dec 9 7:56pm
(Floor)
On Our Shelves Now
Description
*A NEW YORK TIMES BOOK REVIEW EDITOR'S CHOICE*
A revealing and unique portrait of Victorian life as told through the discovery of one woman's textile scrapbook.
In 1838, a young woman was given a diary on her wedding day. Collecting snippets of fabric from a range of garments - some her own, others donated by family and friends - she carefully annotated each one, creating a unique record of their lives. Her name was Mrs Anne Sykes.
Nearly two hundred years later, the diary fell into the hands of Kate Strasdin, a fashion historian and museum curator. Using her expertise, Strasdin spent the next six years unravelling the secrets contained within the album's pages, and the lives of the people within.  Her findings are remarkable.  Piece by piece, she charts Anne's journey from the mills of Lancashire to the port of Singapore before tracing her return to England in later years. Fragments of cloth become windows into Victorian life: pirates in Borneo, the complicated etiquette of mourning, poisonous dyes, the British Empire in full swing, rioting over working conditions and the terrible human cost of Britain's cotton industry. This is life writing that celebrates ordinary people: not the grandees of traditional written histories, but the hidden figures, the participants in everyday life. Through the evidence of waistcoats, ball gowns and mourning outfits, Strasdin lays bare the whole of human experience in the most intimate of mediums: the clothes we choose to wear. 
Praise for The Dress Diary: Secrets from a Victorian Woman's Wardrobe
"A vivid portrait of 19th-century life. Like an intrepid detective, Strasdin follows each thread and reconstructs Anne Sykes's life. Using a combination of highly illustrative prose and reproductions of fashion plates, the author details the evolution of fashionable silhouettes and helps us to envision how the small bits of fabric might have looked as complete garments. Strasdin's detailed explication of Victorian-era dress is sure to delight the fashion history enthusiast, but The Dress Diary has much wider appeal. A compelling narrative that challenges the 'deep-seated perception of dress as superficial and inconsequential.'"
—  The New York Times Book Review
"An irresistible glimpse into fashion from nearly two centuries ago. It's a life in fabric; a poignant illustration of something seemingly ephemeral that has nonetheless endured."
— The Seattle Times
"An extraordinarily rich record of middle-class Victorian life, both at home and abroad. A fascinating book."
 
— Guardian
"A questing and poignant social history."
— The Observer
"Snippets of fabric, snippets of biographical detail, snippets of historical evidence—this is a book entirely made up of snippets and I found it irresistible."
 
— The Times
"Strasdin's painstaking detective work has uncovered many of the fascinating insights behind the fabric swatches contained in this unusual collection."
 
 
— Sunday Times
"A vivid history of expansion and empire, all wrapped up in 2,184 pieces of cloth.  If I ever were looking for a historical detective with whom to team up, Kate Strasdin would be at the top of my list."
 
— Victoria Finlay, BBC History Magazine, author of Fabric
"Teeming with history and detail - a fascinating exploration of how even the smallest scraps of fabric can open up large stories."
 
— Lynn Knight, author of The Button Box 
"The story of a singular woman. Kate Strasdin's forensic detective work has finally let Mrs. Sykes—and her book—speak again."
 
— Judith Flanders, author of The Invention of Murder 
"Intriguing and engaging. A fascinating and creative unravelling of Anne's life and times."
 
— Clare Hunter, author of Threads of Life