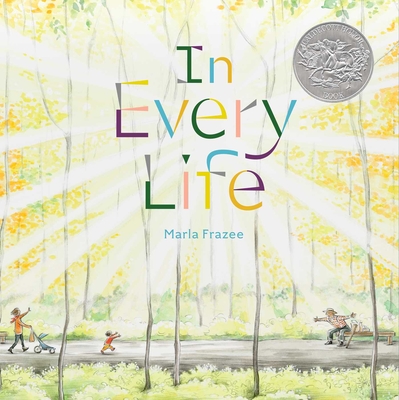 In Every Life
Publication Date:
February 7th, 2023
Publisher:
Beach Lane Books
Usually Ships in 1 to 5 Days
Description
A simple and profound meditation on the many wonders of life from two-time Caldecott Honor recipient Marla Frazee.
In every life, there is love and loss, hope and joy, wonder and mystery. With glowing art and spare, powerful text, Caldecott Honor–winning creator Marla Frazee celebrates the moments, feelings, and experiences, both big and small, that make up a life.
Praise for In Every Life
"Two-time Caldecott Honor recipient Marla Frazee brings her considerable talents to a timeless celebration of birth and life in In Every Life, a wonder of a picture book.... Frazee's love both for her art and for life itself shines from each page of In Every Life. This gentle, luminous book is a treasure."
— BookPage
"Readers looking for picture books featuring people who look like them: rejoice!... Fellowship is precisely the feeling that [Frazee] captures here, in uplifting word and luminous image."
— Shelf Awareness For Readers, *STARRED REVIEW*
* "This book is a meditation on gratitude, full of intricate symbolism.... The overall mood is slow, steady, and soothing. The combination of the spiritual words and the prosaic moments alternating with grand panoramas bestows a magnitude to the minutiae of the everyday. The characters are diverse in every sense of the word, representing a myriad of families and lived experiences. While the book's brevity is appropriate for a read-aloud, children will want to examine the illustrations closely.... Simultaneously simple and majestic, this benediction of a book is recommended for first purchase."
— School Library Journal, STARRED REVIEW
* "This brief, stirring benediction... starts with new life. A rich trove of moving images lets Frazee range over an expansive constellation of human experiences, offering fodder to explore and discuss."
— Publishers Weekly, STARRED REVIEW
* "Providing opportunities for observation, conversation, and reflection... This lyrical blessing of a picture book belongs on every shelf."
— Kirkus Reviews, STARRED