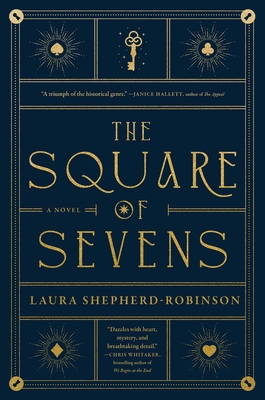 The Square of Sevens: A Novel
Publication Date:
September 5th, 2023
Usually Ships in 1 to 5 Days
Come for the orphaned, Dickensian fortune teller in 18th-century Cornwall and stay for a sweeping epic of Georgian high society, mystery, and divination. Deeply researched and intricate, this is outstanding historical fiction.
September 2023 Indie Next List
Description
INTERNATIONAL BESTSELLER
"A big, satisfying, and clever read." —The Times (London)
An orphaned fortune teller in 18th-century England searches for answers about her long-dead mother and uncovers shocking secrets in this immersive and atmospheric saga perfect for fans of Sarah Waters and Sarah Perry.
Cornwall, 1730: A young girl known only as Red travels with her father making a living predicting fortunes using the ancient Cornish method of the Square of Sevens. Shortly before he dies, her father entrusts Red's care to a gentleman scholar, along with a document containing the secret of the Square of Sevens technique.
Raised as a lady amidst the Georgian splendor of Bath, Red's fortune-telling delights in high society. But she cannot ignore the questions that gnaw at her soul: who was her mother? How did she die? And who are the mysterious enemies her father was always terrified would find him?
The pursuit of these mysteries takes her from Cornwall and Bath to London and Devon, from the rough ribaldry of the Bartholomew Fair to the grand houses of two of the most powerful families in England. And while Red's quest brings her the possibility of great reward, it also leads to grave danger.
Laura Shepherd-Robinson, "the queen of modern Georgian literature" (Susan Stokes-Chapman, author of Pandora), has written a dazzling and Dickensian story of mystery and intrigue, with audacious twists and turns.
Praise for The Square of Sevens: A Novel
"A clever story . . . . Murders, deception and a cliff-top fight to the death have this novel roaring toward an unpredictable finish." 
—The Washington Post
"The Square of Sevens captured me from the opening lines to the breathtaking ending. With a mysterious heroine who is a sheer delight to follow through Georgian England, this is a story that will sweep you away. Secrets reveal themselves in a Gothic and suspenseful tale that will keep you guessing until the very end. Intricate, haunting and magical by turns, Laura Shepherd-Robinson's tale is an absolute immersive read you won't soon forget."
—Patti Callahan Henry, New York Times bestselling author of The Secret Book of Flora Lea
"A reminder that Laura Shepherd-Robinson is riding high in the historical crime stakes....a sprawling epic novel."
—Financial Times
"Suspenseful and intricately planned, The Square of Sevens is a work where every page seems to hold the promise of a new thrilling secret. More than a mystery, it is a book that radiates a deep love of storytelling and the magic of a well-told tale."
—Katherine J. Chen, author of Joan
"Bright, gripping, and brilliantly researched, The Square of Sevens is a masterful, Gothic read."
—Signe Pike, author of The Lost Queen series 
"This rich, complex and haunting Dickensian epic is a triumph of the Gothic genre. A book that stays with you. Shepherd-Robinson is an exceptional writer and meticulous researcher. She creates an atmosphere so evocative of the 18th century I breathed the same air as the characters, wore their clothes, felt what they felt. The Square of Sevens is a masterpiece."
—Janice Hallett, internationally bestselling author of The Appeal
"A big, complex mystery to lose yourself in: rich in memorable, scheming characters and vivid historical detail, full of daring twists. I was so immersed in its world, I didn't want it to end."
—SJ Parris, bestselling author the Giordano Bruno series
"This is a fabulously evocative novel, with a heroine who proves the most wonderful company, and a finely spun mystery which keeps you turning the pages. The Square of Sevens invites you into a magical world which you won't want to leave."
—Elodie Harper, bestselling author of The Wolf Den
"A sprawling, exquisite, outright triumph. The Square of Sevens dazzles with heart, mystery and breathtaking detail. I doubt I'll read a better book this year." —Chris Whitaker, author of We Begin At the End
"Intricate, compelling and stuffed full of intrigue, The Square of Sevens will sweep you into its world."—Fiona Barton, bestselling author of The Widow