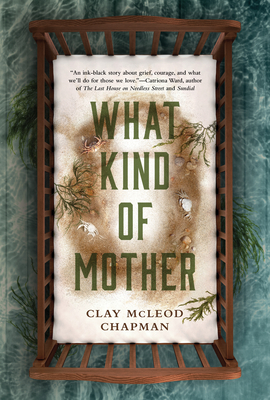 What Kind of Mother: A Novel
Publication Date:
September 12th, 2023
Usually Ships in 1 to 5 Days
Just when I settled in to the rhythm of this novel, it knocked me off my feet.It did that a couple times, and I absolutely loved it. It is essentially a meditation on parenthood and how that can change a person — for better or worse.
September 2023 Indie Next List
Description
"What Kind of Mother mixes Southern Gothic, a missing child story, and body horror into an entertaining brew sure to inform your nightmares."—Paul Tremblay, author of The Cabin at the End of the World and A Head Full of Ghosts
After striking out on her own as a teen mom, Madi Price is forced to return to her hometown of Brandywine, Virginia, with her seventeen-year-old daughter. With nothing to her name, she scrapes together a living as a palm reader at the local farmers market.  
It's there that she connects with old high school flame Henry McCabe, now a reclusive local fisherman whose infant son, Skyler, went missing five years ago. Everyone in town is sure Skyler is dead, but when Madi reads Henry's palm, she's haunted by strange and disturbing visions that suggest otherwise. As she follows the thread of these visions, Madi discovers a terrifying nightmare waiting at the center of the labyrinth—and it's coming for everyone she holds dear.
Combining supernatural horror with domestic suspense into a visceral exploration of parental grief, What Kind of Mother cements Clay McLeod Chapman's reputation as a "star" (Vulture) and "the twenty-first century's Richard Matheson" (Richard Chizmar, Chasing the Boogeyman.)
Praise for What Kind of Mother: A Novel
One of Book Riot's Best Horror Books Of 2023
"Chapman (Ghost Eaters) is becoming a not-to-miss horror novelist. Suggest this one to a varied audience of fans who enjoy intense psychological tales like Paul Tremblay's The Pallbearers Club, body horror like Ahmed Saadawi's Frankenstein in Baghdad, and parental horror like Zoje Stage's Baby Teeth; don't forget fans of the pulp classic "Clickers" series, originated by J.F. Gonzalez."—Library Journal
"Perfectly paced [...] Recommend to readers who enjoyed Zoje Stage's Baby Teeth (2018), Victor LaValle's The Changeling (2017), or Laurel Hightower's Crossroads (2020)."—Booklist
"Bristling with uneasy energy, What Kind of Mother seizes you by the throat and never lets go. An ink-black story about grief, courage, and what we'll do for those we love."—Catriona Ward, author of The Last House on Needless Street and Sundial
 
"There's a moment in What Kind of Mother when a character worries that he's telling the story all wrong. The opposite is true of Clay McLeod Chapman. His lyrical prose shimmers, moving us seamlessly from one wounded soul to another. A good old-fashioned salty summer scare about the beautiful, terrifying power of belief."—Caroline Kepnes, New York Times best-selling author of the You series
 
"What Kind of Mother mixes Southern Gothic, a missing child story, and body horror into an entertaining brew sure to inform your nightmares."—Paul Tremblay, author of The Cabin at the End of the World and A Head Full of Ghosts
 
"A tremendous, heartbreaking work of dark fiction, where the horror seeps in quietly until you're left drowning. You won't forget about this tale anytime soon. A masterpiece."—Ronald Malfi, best-selling author of Come with Me
 
"I'm not sure how Clay McLeod Chapman manages to be both tremendously tender and brilliantly hideous in What Kind of Mother, but he does—in this strange, poetic, and gut-wrenching portrait of parenthood."—Erika T. Wurth, author of White Horse
 
"Another stunner . . . one of horror's modern masters. Beautifully written, deftly plotted, and completely engrossing, What Kind of Mother will get under your skin and take your breath away and break your heart and chill you to the bone. A profound exploration of parental love and loss, of regret and sacrifice."—Rachel Harrison, national best-selling author of Cackle and Such Sharp Teeth
 
"What Kind of Mother is a deeply unsettling, oddly sweet book about what love can become."—Sarah Gailey, best-selling author of Just Like Home
 
"What Kind of Mother is both a breakneck story about running from your past and also a meditation on loss and guilt. Which is typical Chapman, a writer who always finds ways to marry our real-life fears with crescendos of pure unadulterated horror. His writing is intense, beautiful, disturbing, heartbreaking, and this book is no different. First it takes you by the hand, then it takes you by the wrist."—Gus Moreno, author of This Thing Between Us
 
"What Kind of Mother is a masterpiece—a beautiful, intimate work. Clay Chapman is the storyteller supreme, and I will follow him anywhere."—Andy Davidson, author of The Hollow Kind
 
"Equal parts terrifying and beautiful. Chapman crafts a folk tale that slides under your skin and burrows its way into your heart. Visceral. Surprising. Stunning. Not to be missed."—Erin E. Adams, author of Jackal
 
"What Kind of Mother will make you pace the room, reconsider your own sanity, and question the stubborn instinct to nurture."—Rachel Eve Moulton, author of The Insatiable Volt Sisters
Praise for Clay McLeod Chapman
"Chapman is a maestro at building grim suspense to the point of unimaginable consequences, proving genuine horror dwells in the world we live in today."—Mystery and Suspense Magazine
"Chapman is the 21st century's Richard Matheson. He's that good."—Richard Chizmar, New York Times best-selling author of Chasing the Boogeyman