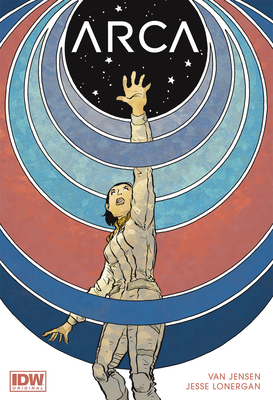 Arca
Publication Date:
July 11th, 2023
Publisher:
IDW Publishing
Usually Ships in 1 to 5 Days
Description
The planet is dying, the rich are escaping, and absolutely nothing is what it seems in this thrilling new dystopian graphic novel.
The world burned. But the rich and powerful...they had a plan.
When society fell apart, a select group of billionaires had an escape hatch: a rocket aimed at the nearest habitable planet, a ship equipped with many of the luxuries of life on Earth—why survive if you can't survive in style? Their every need is tended to by teenagers who are willing to act as slaves in return for the promise of a new life. This is a good story. But, like so many stories, it is not true.
Inside a great, sealed survival chamber, one slave—a teenage girl named Persephone—discovers that the promised future of comfort is a myth. And with that knowledge, she must fight for her survival against the billionaires, who would gladly kill her to protect the hidden truth.
Praise for Arca
"Excellent pacing, authentic dialogue and terrific art." —George Gene Gustines, The New York Times
"A sharp, socially canny sci-fi thriller…. Fans of smart dystopian storytelling will want to get on board." —Publishers Weekly
"Author Jensen balances an exploration of truth and systemic power with propulsive action and suspense, while illustrator Lonergan's page design and visual storytelling result in an uncanny sense of scale, movement, and pacing." —Library Journal
"A fun page-turner that skillfully explores social inequality." –Kirkus Reviews
"A clever dystopian graphic novel following the rhythms of a bookish lone wolf." —Comics Grinder