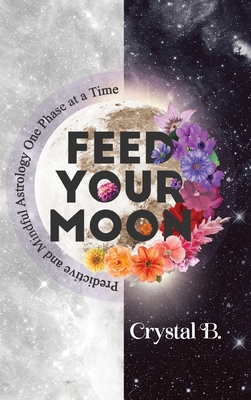 Feed Your Moon: Predictive and Mindful Astrology One Phase at a Time
Publication Date:
May 11th, 2021
Publisher:
Crystal B. Astrology
Heartleaf Books
1 on hand, as of Mar 23 5:11pm
(Floor)
On Our Shelves Now
Description
FEED YOUR MOON delivers new astrology tools to help discover more about who you really are and why your needs are always changing. After a life time of working with real people, their stories, struggles and triumphs, second generation astrologer and "Astro Therapist" Crystal B. brings to light the laws of the universe in connection to our moon signs, relationships and evolving phases. There is MORE to your story and this modern, easy to understand and ground breaking astrology book explains WHY.
No matter what your sun sign or other planetary constants, all of us get a chance to experience each zodiac sign once, twice, or even possibly three times throughout our lives. FEED YOUR MOON reinvents the zodiac's wheel while revealing tools to help us tune into the "skin you're in" and changing astrological influences in your life. Crystal B. delivers new truths about how to decode your personal astrology along with new information about the not commonly discussed Progressed Moon.
FEED YOUR MOON includes both mindful and predictive astrology. It helps you honor and embrace your today while prepping for tomorrow. Gain access to a unique recipe of self-discovery that helps you understand hidden truths about your personal astrology, using both mindful and predictive techniques. Tools are weaved throughout every page to help you stay mindful in your present, while preparing you for what the universe has in store next.
Written in an easy-to-read format for both beginners and astrology junkies alike, FEED YOUR MOON helps you embrace and honor your authentic self, understand your evolving relationship needs, gain perspective on the mystifying events in your life, and learn to use planetary influences to your advantage.
Your Moon is hungry. FEED YOUR MOON delivers the ingredients for all the answers you've been looking for including a guide to help you turn your ordinary into something extraordinary.
Inside this visually inspiring and easy to read book, you'll discover:
- How to Mindfully Decode Your Astrology DNA
- A Recipe to Feed Your Moon, the Origin of Emotional Satisfaction
- The Progressed Moon, a Tool for Mindful Prediction
- Prediction Techniques to Understand Your Changing Phases
- What Skin Are You In? A Unique Reference for the "12 Signs & Skins of the Zodiac" and How to Use Them to Be Your Best Self
- Your Changing Relationship Attraction Factors & Needs
- Tools to Decode Critical Life Turning Points & The Opportunity of Transition