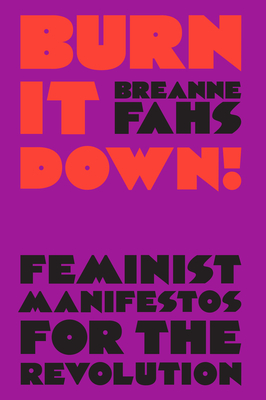 Burn It Down!: Feminist Manifestos for the Revolution
Publication Date:
March 24th, 2020
Heartleaf Books
1 on hand, as of Jan 27 4:14pm
(Floor)
On Our Shelves Now
Description
A comprehensive collection of feminist manifestos, chronicling rage and dreams from the nineteenth century to the present day
A landmark collection spanning two centuries and four waves of feminist activism and writing, Burn It Down! is a testament to what is possible when women are driven to the edge. The manifesto—raging, demanding, quarreling and provocative—has always been central to feminism, and it's the angry, brash feminism we need now.
Collecting over seventy-five manifestos from around the world, Burn It Down! is a rallying cry and a call to action. Among this confrontational sisterhood, you'll find the Dyke Manifesto by the Lesbian Avengers, The Ax Tampax Poem Feministo by the Bloodsisters Project, The Manifesto of Apocalyptic Witchcraft by Peter Grey, Simone de Beauvoir's pro-abortion Manifesto of the 343, Double Jeopardy: To Be Black and Female by Frances M. Beal, and many more.
Feminist academic and writer Breanne Fahs argues that we need manifestos in all their urgent rawness, for it is at the bleeding edge of rage and defiance that new ideas are born.
Praise for Burn It Down!: Feminist Manifestos for the Revolution
"An invaluable reminder of feminism's radical and revolutionary visions. It's also, to those least inclined to read it but most in need of doing so, a powerful threat."
—Soraya Chemaly, author of Rage Becomes Her
"This exhilarating work of love and scholarship is a radiant gift to all who value liberation and justice. Reading it filled me with hope, inspiration and an electric connection to the angry, dissatisfied comrades who have come before me—as well my outraged contemporaries. A must-read, an antidote to powerlessness, a literary companion for the ages."
—Michelle Tea, author of Against Memoir
"In an age of platitudes and etsy-fied feminist empowerment products, Breanne Fahs gives us the uncompromising, the unruly, the ungovernable, the unpalatable. This book is a fiery reminder that the world does not change, we change the world."
—Jessa Crispin, author of The Dead Ladies Project
"This text is important historically and as a handbook for understanding and organizing today. Fahs has put together a collection that runs from the immediate and practical to the futuristic and abstract. In doing so, she reminds us that radical feminism is both utopian vision and practical argument."
—Ron Jacobs, Counterpunch
"Any Gender Studies professor who isn't teaching this book is missing something important in their curriculum … This book is a true feminism buffet, no matter what angle is of interest to you."
—Megan Volpert, PopMatters
"Learned and impassioned … irreverent, scabrous and enraged, these manifestos also happen to be full of contradictions, written in the heat of the moment and without a cool eye to posterity. But it's this rough-hewn immediacy that makes some of them so bracing to read, especially now."
—Jennifer Szalai, New York Times Book Review
"Powerful and inspiring."
—Nina Burleigh, Air Mail
"Magnificently cathartic … a reminder of the power and importance of taking a position, asserting your rights and expressing them forcefully—and that we can take strength from these positions, appreciate them, disagree, and argue the nuances with equal force and passion."
—Hettie Judah, i newspaper
"Burn It Down sweeps through time and across the globe."
—Frankie Miren, New Socialist
"Any Gender Studies professor who isn't teaching Burn It Down! is missing something important in their curriculum."
—Megan Volpert, PopMatters ("Best Books of 2020")
"An essential text for any time, but especially this one."
—Jane Caputi, Journal of American Culture