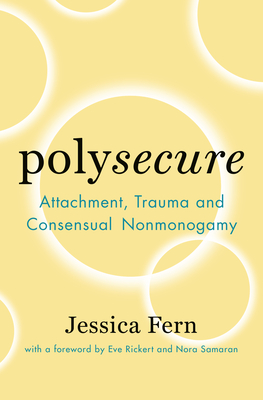 Polysecure: Attachment, Trauma and Consensual Nonmonogamy
Publication Date:
October 23rd, 2020
Publisher:
Thornapple Press
Heartleaf Books
2 on hand, as of Dec 9 7:56pm
(Floor)
On Our Shelves Now
Description
Attachment theory has entered the mainstream, but most discussions focus on how we can cultivate secure monogamous relationships. What if, like many people, you're striving for secure, happy attachments with more than one partner? Polyamorous psychotherapist Jessica Fern breaks new ground by extending attachment theory into the realm of consensual nonmonogamy. Using her nested model of attachment and trauma, she expands our understanding of how emotional experiences can influence our relationships. Then, she sets out six specific strategies to help you move toward secure attachments in your multiple relationships. Polysecure is both a trailblazing theoretical treatise and a practical guide.
Praise for Polysecure: Attachment, Trauma and Consensual Nonmonogamy
"Polysecure provides a roadmap for people who want to establish emotionally intimate and securely attached relationships with multiple partners. One of the most important insights is that secure attachment is a product of relationship experiences, rather than relationship structures." —Dr. Elisabeth Sheff, author of The Polyamorists Next Door, Stories from the Polycule, When Someone You Love is Polyamorous, and Children in Polyamorous Families
"Secure attachment is absolutely central to successful polyamorous relationships, and insecure attachment is at the core of the jealousy and other challenges in open relationships of all kinds. This book can help poly people, as well as clinicians, get to the heart of their struggles and pain. It can help them to take concrete steps to become more comfortable with their nonmonogamous relationships and trust their partner's love and commitment. This is required reading for people in open relationships and should be used as a textbook for every therapist who works with people in polyamorous relationships." —Kathy Labriola, counselor, nurse, and author of The Polyamory Breakup Book
"Gives people a way to understand how they may be recreating old patterns by bringing their own childhood attachment styles into their adult relationships. More importantly, it offers concrete skills for how to use this knowledge to create healthier, more satisfying and secure relationship dynamics." —Max Rivers, author of Loving Conflict: How Conflict Is Really Your Relationship Trying to Go Deeper
"I whole-heartedly recommend this book to anyone interested in self-acceptance and self-mastery, as well as their own emotional well-being as they build loving, sustainable, healthy multiple relationships." —Kitty Chambliss, relationship coach and author of Jealousy Survival Guide: How to Feel Safe, Happy and Secure in an Open Relationship
"Anyone even considering nonmonogamy would benefit from reading Polysecure. Jessica Fern does an excellent job of not only explaining attachment theory and applying it to nonmonogamy but also offering real steps readers can take and skills they can hone to help create the secure, satisfying relationships they want." —JoEllen Notte, sex educator and author of The Monster Under the Bed: Sex, Depression, and the Conversations We Aren't Having
"This is my favorite kind of book. Not only does it dissect the intricacies of interpersonal dynamics into fun charts and lists, but it also provides a helpful how-to for applying this information in your actual relationships, and to every aspect of your own life. I'm suggesting it to all my therapist friends immediately!" —Tikva Wolf, creator of Kimchi Cuddles and author of It's OK, Feelings, I Got You and Love, Retold.
"Smart, readable, path-setting, and deeply caring. And practical. Jessica Fern presents abundant material that will inform poly-friendly therapists everywhere, and she offers six particular strategies that will help polyfolks and their beloveds to become more "polysecure" in their relationships." —Lindsay Hayes, Polyamory in the News
"Polysecure is a must-read for polyamorous folks and for therapists with clients who are practicing consensual non-monogamy. However, I believe that its insights and messages could open doors for people who have, or are hoping to find, a single partner. We all carry unconscious beliefs about what love is and what it can be—and we can all benefit from asking ourselves if those beliefs really are leading us to the love we need." —Jeremy Adam Smith, Greater Good Magazine