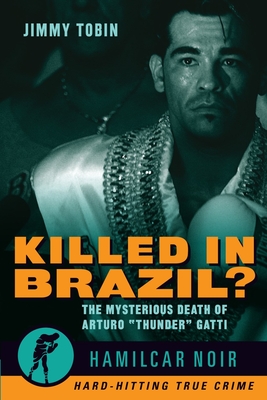 Killed in Brazil?: The Mysterious Death of Arturo Thunder Gatti--Hamilcar Noir True Crime Series
Publication Date:
June 16th, 2020
Publisher:
Hamilcar Publications
Usually Ships in 1 to 5 Days
Description
Tobin astutely looks at the varying possibilities that would have led to Gatti's death. Such an approach intelligently and respectfully piques interest in a real-life mystery that has left Gatti's fans and family in need of both solace and satisfactory answers.--Kirkus Reviews
Tobin is] an intelligent writer and a thoughtful person, tender even, who writes with authority...I know he's invited me to a place I'd not have accessed without him.--Bart Barry, 15rounds.com
"Tobin's purpose is welcomely, deliberately, indefinite. Instead of a Shakespearean tragedy, or yet another bloody chapter of boxing's wider legacy...Tobin's document becomes a meditation on the human condition..."--Jack Porter, The Sportsman
Arturo Thunder Gatti hung up his gloves in 2007, closing the book on a boxing career that bordered on the mythical. At long last, he seemed ready to leave the business of blood behind for a long, happy life outside the ring. His retirement was celebrated--boxing's modern gladiator had earned his freedom.
Two years later, he was gone--found dead in a hotel in Brazil under mysterious circumstances. He was only thirty-seven years old. Did he commit suicide? Or was he killed by his new wife?
In Killed in Brazil?, Jimmy Tobin recounts the dramatic events surrounding Gatti's tragic demise and shines a light on what may have happened on that fateful night.
Killed in Brazil is the fourth in the Hamilcar Noir series. Hamilcar Noir is Hard-Hitting True Crime that blends boxing and true crime, featuring riveting stories captured in high-quality prose, with cover art inspired by classic pulp novels.
Perfect Gift For Boxing and True Crime Fans
Killed in Brazil?, combined with other books in the Hamilcar Noir series, makes a great gift for fans of stories about the darker side of boxing. Books in the Hamilcar Noir series also make for a great gift idea for true crime fans--whether they are a die-hard boxing fan or not, they will devour these quick reads and ask for more