Preorder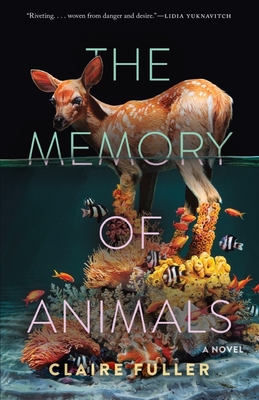 The Memory of Animals
Publication Date:
June 6th, 2023
Publisher:
Tin House Books
Description
A Guardian and LitHub Most Anticipated Book of 2023

From the award-winning author of Our Endless Numbered Days, Swimming Lessons, Bitter Orange, and Unsettled Ground comes a beautiful and searing novel of memory, love, survival—and octopuses.
In the face of a pandemic, an unprepared world scrambles to escape the mysterious disease causing sensory damage, nerve loss, and, in most cases, death. Neffy, a disgraced and desperately indebted twenty-seven-year-old marine biologist, registers for an experimental vaccine trial in London—perhaps humanity's last hope for a cure. Though isolated from the chaos outside, she and the other volunteers—Rachel, Leon, Yahiko, and Piper—cannot hide from the mistakes that led them there.
As London descends into chaos outside the hospital windows, Neffy befriends Leon, who before the pandemic had been working on a controversial technology that allows users to revisit their memories. She withdraws into projections of her past—a childhood bisected by divorce, a recent love affair, her obsessive research with octopuses and the one mistake that ended her career. The lines between past, present, and future begin to blur, and Neffy is left with defining questions: Who can she trust? Why can't she forgive herself? How should she live, if she survives?
Claire Fuller's The Memory of Animals is an ambitious, deeply imagined work of survival and suspense, grief and hope, consequences and connectedness that asks what truly defines us—and the lengths we will go to rescue ourselves and those we love.
Praise for The Memory of Animals
Promises to be thought-provoking.
— Lit Hub
Between wanting to do the right thing and the vortex of mistakes from the past there is a real place, one woven from danger and desire. Claire Fuller's riveting novel, The Memory of Animals, creates a world within a world where a young woman marine biologist faces off with a global pandemic and the hopes for a vaccine by diving into her own past. She might retrieve some fragment that could secure self preservation as well as—if not humanity, then at least the human heart.
— Lidia Yuknavitch, author of Thrust
Claire Fuller is my favorite story-teller.  In The Memory of Animals her larger themes of selfhood and altruism glimmer through an utterly propulsive story. I read this in one sitting, swept up by Fuller's thriller-like pace in the simple joy of reading her characters inhabit their particular drama. Yet, in the book's aftermath, I was haunted by Neffy's fumbling humanity in the face of loss and fear, and how courage isn't always obvious—least of all to those deploying it. Fuller's books come in at the eyes, but they settle right behind the heart.
— Melanie Finn, author of The Hare
Claire Fuller is a fascinating writer, and The Memory of Animals is further evidence of her powers. Her story is one of survival, but her subject is humanity itself. With immense skill, she shines a light on the dark heart of our existence—the beauty and brutality of human behaviour. An unforgettable novel.
— Kathleen MacMahon, author of Nothing But Blue Sky
Haunting and unsettling, moving and thoughtful—with horror lurking at the edges—this is a subtle, elegant novel, an interesting and unusual take on the meaning of pandemic. Claire Fuller is a huge talent.
— Lucy Atkins, author of Magpie Lane
Claire Fuller is such an interesting and original writer and takes on complex themes with such a cool, clear eye. In The Memory of Animals she has produced another literary page-turner. The collision between altruism and the survival instinct at the heart of the book is brilliantly dramatized and her disturbing vision of post-pandemic moral collapse is compulsive and thoroughly convincing. Terrific!
— Claire Chambers, author of Small Pleasures
A thrilling departure from our reality.
— Good Housekeeping
Fuller excels in examining the everyday moments at the heart of a life. . . . A memorable meditation on how the human struggle to survive in captivity is not so different than that of our animal kin.
— Kirkus Reviews
Full of jeopardy and strangeness, but also laced with Fuller's trademark generosity and compassion, a startling and satisfying book.
— Julie Myerson, author of Nonfiction