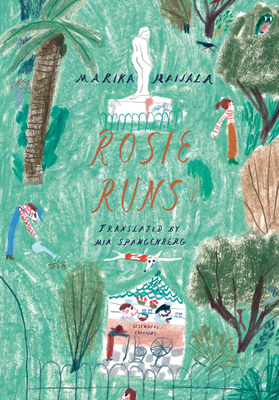 Rosie Runs
Publication Date:
August 15th, 2023
Publisher:
Elsewhere Editions
Usually Ships in 1 to 5 Days
A captivating tale of freedom for a racing dog named Rosie, told with beautiful rhythm and perfect read-aloud pacing for toddlers and early elementary listeners alike. Fluid illustrations invite the viewer to run right beside Rosie.
September/October 2023 Kids Indie Next List
Description

SEPTEMBER/OCTOBER 2023 KIDS' INDIE NEXT LIST SELECTION
A racing dog named Rosie escapes the track and bounds towards freedom in this panoramic heartwarming tale. For young readers who love people-watching, sniffing wild plants, racing in the wind, and other small joys of life.
Rosie dreams of forests, meadows, hares, and freedom. Trapped at the racetrack, she sprints in endless circles – until one day, Rosie makes a fearless beeline to the enormous world beyond the track. Scared and a little excited too, Rosie runs through shadowy forests, a circus, a bustling train station, and even takes a quick dip alongside a ferry. She keeps running through small towns and whirling cities, observing the gentle, giddy moments of passersby. Readers will find peace in a private look at a man watering his plants, or a jolt of happiness at a long-snouted dog wearing a cap on a train. A book about taking in the wide world around you, Rosie Runs beckons young readers to rediscover their favorite hobbies and passions, and revel in the joy of playing and being among new friends.
Praise for Rosie Runs
"What a charming book! This Finnish import feels like an epic journey. The mystery is: does Rosie dream this adventure as a way to break free of the life of a racing dog? Readers can decide for themselves. All will agree that the sliver of her body, elongated and hovering over the earth like a speeding bullet, is the embodiment of her joy in running . . . A great pick for story time."
— Stephanie Tournas, Youth Services Book Review
"In the spirit of Pulitzer Prize-winner Jane Smiley's magical and uplifting novel, Perestroika in Paris, ROSIE RUNS is the heart-warming and energetic tale of a race-dog and her sudden dash into the wider-world. Rose runs indeed-- through countryside and towns, across water, and past people and animals of all sorts. Like Smiley's tale, some notice Rosie while others miss the wondrous sight. But young readers won't miss a second of this brave greyhound's journey to freedom. The crayon drawings add more magic to the adventure. What a gorgeous gem of a picture book!"
— Joy Preble, Brazos Bookstore
"This story by Finnish creator Maijala offers many pleasures: riveting, sustained motion; the suspense of wondering whether Rosie will be captured; and acute observations (a tethered circus pony "neighs in longing as Rosie runs by"). A series of wide-angle views roughly stroked in crayon-like colors give a mosaic feel to Rosie's flat-out dash for freedom in this triumphant escape story." — Publishers Weekly, starred review
"With Rosie as our guide, the narrative naturally goes beyond the visual: the scents and sounds of the greyhounds' journey make this lovely book even more appealing."
— Georgia Wall, World Kid Lit
"The text and illustrations brilliantly create momentum while encompassing the reader in Rosie's world through all the senses — for example, from feeling the air as she leaps away from the race track to the eventual moss under her feet."
— Michelle Nott, author of Teddy, Let's Go!