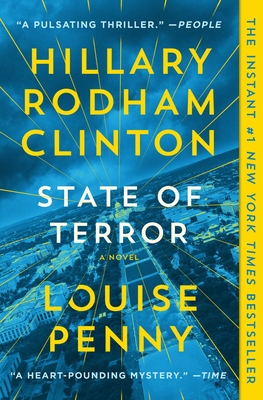 State of Terror: A Novel
Publication Date:
June 28th, 2022
Publisher:
Simon & Schuster/St. Martin's Press
Heartleaf Books
1 on hand, as of Jan 27 4:14pm
(Floor)
On Our Shelves Now
Description
AN INSTANT #1 NEW YORK TIMES BESTSELLER​
Named one of the most anticipated novels of the season by People, Associated Press, Time, Los Angeles Times, Parade, St. Louis Post-Dispatch, The Guardian, Publishers Weekly, and more.
From the #1 bestselling authors Hillary Clinton and Louise Penny comes a novel of unsurpassed thrills and incomparable insider expertise—State of Terror.
After a tumultuous period in American politics, a new administration has just been sworn in, and to everyone's surprise the president chooses a political enemy for the vital position of secretary of state.
There is no love lost between the president of the United States and Ellen Adams, his new secretary of state. But it's a canny move on the part of the president. With this appointment, he silences one of his harshest critics, since taking the job means Adams must step down as head of her multinational media conglomerate.
As the new president addresses Congress for the first time, with Secretary Adams in attendance, Anahita Dahir, a young foreign service officer (FSO) on the Pakistan desk at the State Department, receives a baffling text from an anonymous source.
Too late, she realizes the message was a hastily coded warning.
What begins as a series of apparent terrorist attacks is revealed to be the beginning of an international chess game involving the volatile and Byzantine politics of Pakistan, Afghanistan, and Iran; the race to develop nuclear weapons in the region; the Russian mob; a burgeoning rogue terrorist organization; and an American government set back on its heels in the international arena.
As the horrifying scale of the threat becomes clear, Secretary Adams and her team realize it has been carefully planned to take advantage of four years of an American government out of touch with international affairs, out of practice with diplomacy, and out of power in the places where it counts the most.
To defeat such an intricate, carefully constructed conspiracy, it will take the skills of a unique team: a passionate young FSO; a dedicated journalist; and a smart, determined, but as yet untested new secretary of state.
State of Terror is a unique and utterly compelling international thriller cowritten by Hillary Rodham Clinton, the 67th secretary of state, and Louise Penny, a multiple award-winning #1 New York Times bestselling novelist.
Praise for State of Terror: A Novel
"A Page-Turner Part Sly, Part Sweet….Surprising...The plot is ambitious and apocalyptic…. [and] a high-speed diplomatic race... This is a romp. The authors have a great deal of fun throwing up red herrings…. Political junkies will relish the veiled insults to real-life people….The emotional cast to the writing, the tendency to dangle portents and wait some time before resolving them, the depiction of friendship, the short paragraphs, the philosophical aperçus — these are all marks of Penny's writing....If Clinton is slyly settling old political scores, she is also, sweetly, celebrating women's support of one another later in life."
— New York Times
"To say more would rob readers of the pleasures of discovery in this taut thriller, a story made all the more relevant by the U.S.'s recent withdrawal from Afghanistan. Possessed of both head and heart, 'State of Terror's' layering of ethical tradeoffs, political intrigue, high-level espionage and pure evil perfectly melds Clinton's intimate knowledge of the State Department and foreign policy with Penny's mastery of genre mechanics."
— Los Angeles Times
"Consistently entertaining….Penny and Clinton demonstrate a sure hand at international intrigue and narrative pacing….The real key to 'State of Terror,' though, is its secret weapon: female friendship."
— The Washington Post
"Hillary Rodham Clinton pairs up with powerhouse mystery novelist Louise Penny for State of Terror, a political thriller full of action and intrigue...Clinton and Penny create a heart-pounding mystery about terrorism, corruption and diplomacy, meticulously written with the promise of details only someone on the inside could contribute."
— TIME Magazine
"The real-life inspiration is clear, but this version is way more fun."
— Entertainment Weekly
"State of Terror is a plot-driven concoction, featuring a classic race against time to out-maneuver international terrorists and homegrown traitors hellbent on turning the United States into a Russian satellite state...State of Terror is a giddy read, particularly for women of a certain age... All thrillers are fantasy stories — fantasies about power and ingenuity. In State of Terror, an older woman draws on her expertise, a reserve of female solidarity, and the magic of a tool James Bond never scored — a pair of Spanx — and she manages to avert disaster. As thriller fantasies go, this one feels a lot more plausible to me than most."
 
— Maureen Corrigan, NPR "Fresh Air"
 "[W]hen a recent American presidential nominee writes a book with Canada's most beloved mystery author, attention is due....Combining insider knowledge with high-stakes action, this is a tale of global menace on par with the best books of its type."
 
— Wall Street Journal
"An utterly thrilling, mesmerizing, whiplash-inducing plot-driven story, 'State of Terror' will make you pull up the bedsheets as you stay up late trying to keep up with Secretary Adams and the team she assembles to crack the case."
— GoodMorningAmerica.com
"A page-turning political thriller...consider this your fall escape."
— CNN.com
"The thriller follows the journey of new secretary of state and main character, Ellen Adams.... Secretary Adams must navigate a terrorist plot, nuclear weapons and a Trump-like administration. Along the way, Adams battles sexist comments from her male counterparts but also finds friendship and support in the women around her...'State of Terror' also tackles Washington's misogyny as the main character navigates jabs and sexist comments at the hands of the male antagonists. While the male characters are rude and crass, the women win by outsmarting their counterparts."
— USA Today
"State of Terror'pulses with the clever asides and turns of phrase that delight Penny's fans (and there are surprise appearances to boot). But this is its own story. The writing duo's well-crafted thriller doesn't shy from profanity and sharp political stabs as it hurtles to its breathless finale."
— Christian Science Monitor
"Big, turbocharged, breathtaking...It's one of the best political thrillers I've ever read....A thriller that combines the firsthand, insider knowledge of a former Secretary of State with the writing skills of a master of suspense. Bonus feature: lots of wicked humor....State of Terror keeps up a relentless pace, with more twists and turns and cliffhangers than I could count." 
 
— Tampa Bay Times
"State of Terror, in which Hillary Clinton joins forces with Louise Penny, the grande dame of crime, is dizzying, addictive, and twisty, but what makes it wonderful—and liberating—is that it is a female fantasy thriller. For once, the saviours are an all-woman crew—not drop-dead gorgeous, but sassy and smart...the book is more than just a thriller, it is a testament to friendship."
— The Week
"Penny and Clinton make a perfect team for State of Terror, a can't-put-it-down thriller in which a U.S. secretary of state new on the job faces a devastating worldwide crisis....an invigorating read that will get your pulse racing and even warm your heart."
 
— St. Louis Post Dispatch
"State of Terror is an absolutely gripping, utterly believable, heart-stopping thriller that will make readers question how much is fiction and how much is based on reality. Clinton and Penny are each a force on their own—put together they are unstoppable."
— Karin Slaughter
"I expected a thriller written by Hillary Rodham Clinton and Louise Penny to be smart, very well written, and suspenseful. But State of Terror is so much more than that. This is the book we always hope some inspired statesperson will write. But they don't. Because they can't reveal what they actually know in a memoir. But State of Terror is a novel. So most bets are off. Yes, this novel is a rip-roaring, brilliant page-turner, but it's also timely, cheeky, important, and wonderfully, courageously provocative. There is much to think about in these pages—which you won't be able to stop turning as fast as your little fingers can move. What great fun!"
— James Patterson
"With combined expertise, Hillary Clinton and Louise Penny offer a story that is not only artfully written but also rich in its deep knowledge of the complicated global mess that is international politics. With each tick of the clock, the spring is more tightly wound, and readers will find themselves breathlessly expecting in every moment that in the next moment the worst will occur. But wisely and with expert craft, across page after page of heart-in-your-throat moments, these two collaborators draw the reader inevitably toward a truly surprising conclusion. State of Terror is a feast for thriller lovers."
— William Kent Krueger
"Smart and fast and twisty, State of Terror is a dazzlingly unpredictable political thriller. I loved it."
— Kathy Reichs
"An inspired pairing. Penny's turn-the-page pacing and Clinton's wealth of insider details mesh perfectly in this fast, entertaining thriller that also has knowing things to say about national—and international—politics. So authentic it feels like eavesdropping."
— Joseph Kanon
"State of Terror moves at a galloping pace all the while offering tantalizing insight into the mind of the GOAT herself. Hillary Clinton and Louise Penny have written us some truly iconic women. We are not worthy!"
— Jessica Knoll
"This is the perfect political thriller: rollercoaster action, credible heroes and villains, and a glimpse into the world of our most powerful politicians. Add into the mix flashes of humor and fine writing and we have a winning formula!"
— Ann Cleeves