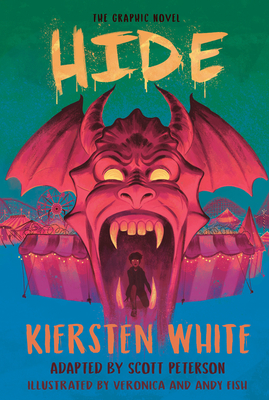 Hide: The Graphic Novel
Publication Date:
September 12th, 2023
Publisher:
Ten Speed Graphic
Usually Ships in 1 to 5 Days
Description
A high-stakes hide-and-seek competition in an abandoned amusement park comes to life in this graphic novel adaptation of the bestselling thriller.
What would you do for $50,000? For Mack, the prize money would be life changing. She knows her time at the women's shelter is already up. And she's good at hiding. At least this time, her life doesn't depend on it--or so she thinks.
The challenge is simple. All fourteen competitors must spend seven days hiding in an abandoned amusement park from dawn to dusk. There's only one rule: Don't get caught.
But as the people around her begin disappearing one by one, Mack realizes this competition is more dangerous than she'd imagined, and that together might be the only way to survive.
Rendered in stunning full-color art by beloved comic artist Veronica Fish, this gripping graphic adaptation of Hide fully immerses you in the chilling and page-turning horror story of Mack and her fellow competitors as they fight to make it out of the Amazement Park.
Praise for Hide: The Graphic Novel
"A propulsive and stunning horror rollercoaster that rewards your close attention."—Ezra Claytan Daniels, creator of Upgrade Soul and BTTM FDRS
 
"An addictive carnival ride through the coolest setting I've ever seen. This is bloody irresistible."—Daniel Kraus, New York Times bestselling author of The Shape of Water

"Suspenseful and compelling, Hide is a rewarding slow burn mystery with a fun horror twist that you can't put down."—Jeannette Arroyo, co-creator of Blackwater
"This stylish and spooky comics adaptation of White's novel . . . reveals the horrors society will sink to in order to uphold the status quo. . . . The bold art captures the creepy, run-down carny vibe with aplomb, and dramatic coloring by Andy Fish punches up action sequences. This Hunger Games–esque saga feels destined for the big screen."—Publishers Weekly, starred review
"White's best-selling thriller about a hide-and-seek competition in an abandoned amusement park, Hide, is brought to its full, creepy potential in this graphic adaptation. . . . The park itself comes alive in Fish's moody illustrations, featuring strong color contrasts and ominous shadows lurking among the park's rusted rides, faded banners, littered walkways, and overgrown greenery. A solid choice for those unfamiliar with the story."—Booklist