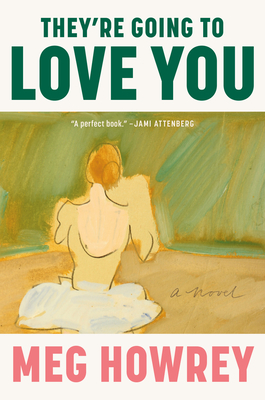 They're Going to Love You: A Novel
Publication Date:
November 15th, 2022
Usually Ships in 1 to 5 Days
They're Going to Love Youis simply wonderful. Perfect. The most trenchant and emotionally rich novel I've read this year.
December 2022 Indie Next List
Description
A NEW YORK TIMES EDITOR'S CHOICE • A BELLETRIST BOOK CLUB PICK • A gripping novel set in the world of professional ballet, New York City during the AIDS crisis, and present-day Los Angeles. • "Beautiful...Howrey, a former dancer with the Joffrey Ballet, proves herself a talented choreographer in her own right...[A] finger-trap puzzle of a plot."—New York Times Book Review
"They're Going to Love You is my idea of a perfect book. It is about art, life, death, love, and family and it is beautifully and sharply written. I cried several times while reading it, and was sorry to let it go when I was done. I cannot recommend it enough." —Jami Attenberg,  New York Times bestselling author of The Middlesteins and All This Could Be Yours
Throughout her childhood, Carlisle Martin got to see her father, Robert, for only a few precious weeks a year when she visited the brownstone apartment in Greenwich Village he shared with his partner, James. Brilliant but troubled, James gave Carlisle an education in all that he held dear in life—literature, music, and, most of all, dance.
Seduced by the heady pull of mentorship and hoping to follow in the footsteps of her mother—a former Balanchine ballerina—Carlisle's aspiration to become a professional ballet dancer bloomed. But above all else, she longed to be asked to stay at the house on Bank Street, to be a part of Robert and James's sophisticated world, even as the AIDS crisis brings devastation to their community. Instead, a passionate love affair created a rift between the family, with shattering consequences that reverberated for decades to come. Nineteen years later, when Carlisle receives a phone call that unravels the events of that fateful summer, she sees with new eyes how her younger self has informed the woman she's become. 
They're Going to Love You is a gripping and gorgeously written novel of heartbreaking intensity. With psychological precision and a masterfully revealed secret at its heart, it asks what it takes to be an artist in America, and the price of forgiveness, of ambition, and of love.
Praise for They're Going to Love You: A Novel
A New York Times Editor's Choice • Best Book of the Year: The New Yorker, Jezebel & BookRiot • A Millions Most Anticipated Book of the Year

"Beautiful...Howrey, a former dancer with the Joffrey Ballet, proves herself a talented choreographer in her own right...In this finger-trap puzzle of a plot, the pull of the past meets the pressures of the present as James summons her to the dying Robert's bedside. The controlled performance is as grueling and gorgeous as a dance en pointe."
—Alex Marzano-Lesnevich, New York Times Book Review

"Howrey's writing is precise and eloquent, like finely tuned ballet, but above all, this soul-stirring novel is about love, loyalty and one's lifelong relationship to art."
—Seattle Times

"A beautiful and relatable portrait of a woman, her regrets, and her successes. As Howrey unflinchingly and honestly dives into the intricacies of relationships and the inevitable growing pains that come with life, she also mines her history as a ballet dancer to deliver an honest portrayal of the dance world, the realities of working artists, and the obstacles facing female choreographers, revealing real-world truths through a fictional setting."
—NPR
"This book had a hold on me from the very beginning and didn't let go...The writing is masterful and the story is completely absorbing." 
—Jasmine Guillory, Today
"A poignant, searing, and rightly conflicted account of ballet's past and present. Howrey, a former Joffrey Ballet dancer, constructs sentences and passages like only a true artist can, reflecting the pain and glory her characters feel. She masterfully choreographed her fictional world in a way that revived my own belief that art, whether in the discipline of dance or writing, can heal us—even when that art form is, itself, broken." 
—Emily Leibert, Jezebel
"Aspiring ballerina Carlisle Martin reveres her father and his partner, former dancers who share a shabby-chic Greenwich Village apartment and the life in art she longs for. Then a perceived betrayal casts Carlisle from the couple's charmed realm. A moving tale about dreams, disillusion, and the hard work of forging a self."
—People magazine
"'What I did was forgivable,' the narrator of this ruminative novel insists. Her offense, which brought about a rupture with her father years ago, is not immediately revealed. Now a former dancer trying to make it as a choreographer, she grapples with her father's impending death by recalling wide-eyed adolescent visits to the Greenwich Village brownstone where he and his boyfriend nurtured gay artists at the height of the AIDS crisis. A lifelong sense that she is 'no one's best' has resulted in a string of arm's-length adult relationships, she realizes, but her careful arrangement of the final farewell produces a late drive toward love and reconciliation."
—The New Yorker

"Carlisle comes from ballet people: her mother was a Balanchine ballerina; her father and his beloved partner, James, are Manhattan dance-world fixtures. In this subtle family novel by Meg Howrey (with a New York real-estate subplot), Dad's Greenwich Village apartment is an obsession for his choreographer daughter—and the site of an error that leads to their estrangement."
—New York magazine

"In this novel about a 43-year-old choreographer estranged from her father, the author skillfully arranges her characters' betrayals and disappointments to portray a family stymied by its own silences, restrained to the point of cruelty."
—New York Times, Editor's Choice

"Deftly tackling issues like the nature of art, creative desire, family relationships, mortality, and the human need to be seen and validated, They're Going to Love You is beautifully layered and unforgettable."
—BuzzFeed
"For the daughter of ballet dancers, the saga of a familial rift and a Greenwich home inheritance come together in an elegant assemblée."
—Vanity Fair
"Howrey, a former dancer with the Joffrey Ballet, brings an insider's view of the discipline to this buzzy novel, which is about a young choreographer grappling with painful family memories."
—New York Times
"A luminous chronicle of betrayal, sacrifice and creative ambition, framed by New York's Aids crisis in the 1980s and some seriously complex family dynamics...By the book's close, readers will be clamouring for an extra curtain call."
—The Guardian
"An increasingly rich, complex tale of aspiration...The love affairs and familial estrangement are well-wrought and intriguing, but the finest aspect of this novel is the way Howrey captures the artistic process."
—Minneapolis Star Tribune
"Although firmly set in ballet's milieu, this is a story of relationships, of families that are formed and destroyed and repaired...This is a beautiful book."
—Washington Independent Review of Books

"Howrey's writing is honest and raw, touching on universal human—and dancer—truths: the process of realizing and forfeiting childhood dreams, the ways we grapple with our own areas of weakness, and the different forms that success can take. Through the author's candid account of the realities of being a dance student, and later, a working artist in present-day America, They're Going to Love You is sure to resonate."
—Pointe Magazine
"They're Going to Love You is a dance novel, but it is fundamentally a family drama that considers what makes relationships work and what makes them implode. The trappings of the dance world and Carlisle's musings about her choreographic commissions form a rich tapestry...Howrey brings an artist's discipline to language. Her prose is lyrical, smooth, and thoroughly enjoyable." 
—The Millions
"Devastatingly poignant...A deeply intelligent tale of love, grief, family and forgiveness."
—Marie Claire (UK)
"They're Going to Love You is my idea of a perfect book. It is about art, life, death, love, and family and it is beautifully and sharply written. I cried several times while reading it, and was sorry to let it go when I was done. I cannot recommend it enough."
—Jami Attenberg, New York Times bestselling author of The Middlesteins and All This Could Be Yours
"Meg Howrey's They're Going to Love You is swift and sinewy and intense—like the ballet dancers who populate it. It's about vocation, longing, and complicated family love, and it's guaranteed to make you weep."
—Maile Meloy, author of Do Not Become Alarmed

"Reading this potent novel, I kept thinking of the Elvis Costello quote: 'Writing about music is like dancing about architecture.' In much the same way, dramatizing the dance world is no easy feat, and Meg Howrey has stuck the landing. They're Going to Love You is a portrait of passion and beauty at its most electric and unflinching. You're going to love this book."
—Lauren Mechling, author of How Could She

"Howrey takes the purity of expression in dance and imbues it with all the messy subtleties of great writing to create something new and exquisite. An elegant and deeply affecting tale."
—Steven Rowley, author of The Guncle
"They're Going to Love You is a devastating and revealing look behind the scenes at the true cost of art—creating it, quitting it, making a life of it. Howrey's moving, taut prose has captured the sacredness and profanity of ballet, family, and of life itself."
—Chloe Angyal, author of Turning Pointe

"Muscular and graceful in equal measure, They're Going to Love You, like the best fiction, contains everything on every page—a new story, constantly surprising, that in its specificity touches the universal line by line. Howrey's writing is remarkable, and this novel is a soaring achievement and a total success."
—Lacy Crawford, author of Notes on a Silencing
"They're Going to Love You is a deeply beautiful book. A lot of writers dream of achieving something like this novel, where art and life and love all seem to be addressed in a way we haven't read before. It acknowledges its forebears (Portrait of a Lady, for example) with a cultured lightness of touch and with a confidence to converse with novelists (and dancers) that have come before. Writing about dance and making it feel present, alive, and important must be among the trickiest of writerly skills! Meg Howrey choreographs fragile wisdom, passing time, parents and children and lovers and regrets and ambition elegantly and movingly."
—Arthur Phillips, author of The Tragedy of Arthur
"As elegant, refined and layered as the best of ballets, this novel is a luminous, immersive reading experience. I was fully transported into a world of beauty, rigour, aesthetic and personal challenges. Compelling and captivating, I was unable to put it down."
—Lisa Harding, author of Bright Burning Things

"Howrey goes back and forth between Carlisle's present and her past...landing, like a flawless jeté, on the side of pitch-perfect poignancy. Howrey, a former dancer who joined the Joffrey Ballet when she was just a teenager, writes as movingly about the world of dance as any living author. Even better is her incisive and effortless writing about relationships—between parent and child, between queer lovers—in all their complex mess and beauty. 'Agony is ordinary,' thinks Carlisle—this novel is anything but."
—Kirkus (starred review)
"A poignant family story of alienation, regret, and desire...Howrey expertly builds tension, leading the reader to feel alongside Carlisle both the draw of ballet and her anxiety about her reunion with her father. It's a breathtaking performance."
—Publishers Weekly (starred review)
"[A] novel about devotion, art, and love in many forms...Howrey's prose invites readers to feel the emotion of each dance, beautifully translating physical and visual art onto the page...Howrey's incisive character studies create a heart-wrenching story of love and loss."
—Booklist (starred review)
"A breathtaking, heart-squeezing book about dance, family, and forgiveness."
—Book Riot
"An unforgettable novel of scintillating beauty and heart-buckling pain about ballet, loyalty, forgiveness and the many forms of love...Meg Howrey's writing is dazzlingly, mind-bendingly good...This gorgeous, heartbreaking novel movingly evokes family ties and betrayal, love and forgiveness."
—Shelf Awareness
"A truly beautiful novel by this former dancer and consummate writer—elegant, perfectly poised. You're going to love it."
—Saga magazine