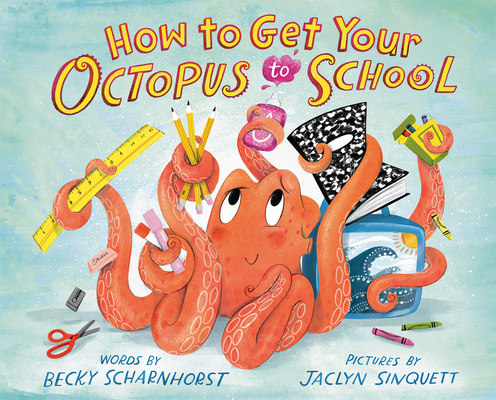 How to Get Your Octopus to School
Publication Date:
May 16th, 2023
Publisher:
Flamingo Books
Description
*"A charming, eight-armed hug of a story that won't hide long on library shelves"-- School Library Journal (starred review)
Learn how to get your octopus to school in this hilarious and endearing back-to-school story!
Getting your octopus to school won't be easy. He would much rather stay home with you and play hide-and-seek or dress-up. But you know your octopus will love school if he gives it a chance. And you'll tell him that . . . as soon as you can find him . . . 
Reminiscent of If You Take a Mouse to School, get your little one ready for school with this silly and sweet back-to-school story. Perfect for any parent who has struggled to get their child ready for school in the morning! Includes an embellished list of octopus facts in the backmatter.
Praise for How to Get Your Octopus to School:

"A charming back-to-school book for the nervous octopus in all of us."-Kirkus reviews

"A visual treat of a picture book. The octopus serves as a sweet buffer for viewers who are shy about going to school themselves, and older siblings may benefit from a reminder to be patient with little ones who don't know the drill just yet." --BCCB
"Scharnhorst offers funny and endearingly patient point-by-point advice on a morning routine . . . All the while, Sinquett's breezy digital art depicts a small, salmon-hued octopus humorously exhibiting arrayed behaviors both human and cephalopod . . . [a] sweetly humorous take on a familiar rite of passage." --Publishers Weekly
Praise for How to Get Your Octopus to School
★"Scharnhorst's second-person narrative slips readers into the perspective of the young girl sending her cunning, yet cuddly, octopus off to school. While the octopus's game of hide-and-seek may extend a bit too long for grown-ups, young readers will hardly notice as they enjoy spotting the octopus hiding throughout Sinquett's playful and brightly colored digital cartoon illustrations. Spoiler alert: The goodbye hug at the end of the story might draw a tear from grown-up readers getting ready to send children off to school. Back matter contains a list of "Ten (Mostly) True Facts About Octopuses," for readers curious about the habits of octopuses highlighted throughout. VERDICT A charming, eight-armed hug of a story that won't hide long on library shelves."--School Library Journal (starred review)
"The matter-of-fact text will easily pull anyone into this alternate version of the world, where octopuses play with stuffed toys, draw at easels, and hug their humans goodbye. As a bonus, the book does not reference a specific school level, making it accessible for a wide range of young children. A list of octopus facts after the story will help caregivers distinguish between truth and fiction presented in the narrative. A charming back-to-school book for the nervous octopus in all of us." -- Kirkus reviews
"Sinquett's illustrations are neatly composed and highly detailed, showing off every stitch of a knit pattern, every vein on a leaf, and every speckle of glitter, while still maintaining a cartoonish, adorable look for the octopus and his burdened but doting pigtailed caretaker.  The red-hued octopus' outfits and choice of hiding spots make this a visual treat of a picture book as viewers get to look for the octopus on each page and giggle at his evasion tactics and stylish garb. The octopus serves as a sweet buffer for viewers who are shy about going to school themselves, and older siblings may benefit from a reminder to be patient with little ones who don't know the drill just yet. An engaging list of embellished octopus facts is included at the end." --BCCB

"It's all-hands-on-deck when a pale-skinned child with long black pigtails tries to wrangle an octopus for his first day of school. Addressing readers in a second-person voice, Scharnhorst offers funny and endearingly patient point-by-point advice on a morning routine  . . . All the while, Sinquett's breezy digital art depicts a small, salmon-hued octopus humorously exhibiting arrayed behaviors both human (trying on outfits, sitting at the breakfast table) and cephalopod (camouflaging, inking). Arrival at the classroom, filled with octopus friends and a kind-faced teacher, sets the stage for a tender transition. "Ten (Mostly) True Facts About Octopuses" closes this sweetly humorous take on a familiar rite of passage." --Publishers Weekly