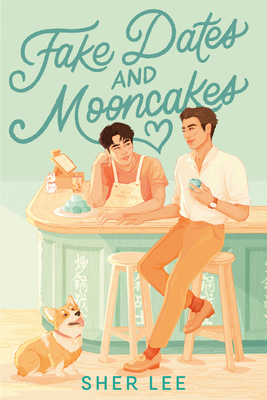 Fake Dates and Mooncakes
Publication Date:
May 16th, 2023
Usually Ships in 1 to 5 Days
Description
Heartstopper meets Crazy Rich Asians in this heartfelt, joyful paperback original rom-com that follows an aspiring chef who discovers the recipe for love is more complicated than it seems when he starts fake-dating a handsome new customer.
Dylan Tang wants to win a Mid-Autumn Festival mooncake-making competition for teen chefs—in memory of his mom, and to bring much-needed publicity to his aunt's struggling Chinese takeout in Brooklyn.
Enter Theo Somers: charming, wealthy, with a smile that makes Dylan's stomach do backflips. AKA a distraction. Their worlds are sun-and-moon apart, but Theo keeps showing up. He even convinces Dylan to be his fake date at a family wedding in the Hamptons.
In Theo's glittering world of pomp, privilege, and crazy rich drama, their romance is supposed to be just pretend . . . but Dylan finds himself falling for Theo. For real. Then Theo's relatives reveal their true colors—but with the mooncake contest looming, Dylan can't risk being sidetracked by rich-people problems.
Can Dylan save his family's business and follow his heart—or will he fail to do both?
Praise for Fake Dates and Mooncakes
"The perfect recipe of romance, riches, and really great food! Through family drama, will-they/won't-they vibes, and one adorable corgi, Lee shows that true happiness comes from following your heart (and delicious mooncakes help, too!)." —Jason June, New York Times bestselling author of Out of the Blue and Jay's Gay Agenda
"With a fresh take on fun tropes and a focus on family as well as romance, Fake Dates and Mooncakes is wonderfully heartfelt and romantic. An utterly delightful read." —F.T. Lukens, New York Times bestselling author of So This Is Ever After 

"A sweet and entertaining romance. Fake Dates and Mooncakes has all the desired ingredients to warm your heart (and leave you hungry for Chinese takeout)." —Brian Zepka, author of The Temperature of Me and You

"An adorable tribute to young love, family, and food. Word to the wise: don't read this lovely treat of a novel while hungry." —Alison Cochrun, author of The Charm Offensive

"A vibrant story bursting with Singaporean Chinese culture readers will instantly recognize was made with the deepest love. Take a bite!" —Adam Sass, award-winning author of Surrender Your Sons and The 99 Boyfriends of Micah Summers

"Get ready to be swept off your feet! Sher Lee serves up a delectable romp. A beautiful celebration of the importance of family, culture, and finding real love" —Brian D. Kennedy, author of A Little Bit Country
"I savored every morsel of Fake Dates and Mooncakes from the first bite all the way through to its sumptuous happily-ever-after. Deliciously sweet with a rich texture, Sher Lee's writing had my mouth watering." —Steven Salvatore, critically acclaimed author of And They Lived . . .
"Charming and heartfelt, this is a perfectly balanced confection that's guaranteed to satisfy any romantic's sweet tooth." —Caleb Roehrig, author of Last Seen Leaving and Death Prefers Blondes
"Foodies will have lots to savor, and cultural heritage and appreciation are at the forefront too....Sweet-filled fun." —Kirkus Reviews
"Quick and engaging dialogue, coupled with plentiful queer and Chinese cultural representation, makes for a sweet ode to family, food, and love." —Publishers Weekly
"Smart and sweet in equal measure, Fake Dates and Mooncakes is an addictive, adorable rom-com with all the ingredients you need: unforgettable characters, a totally swoon-worthy romance, and the best, most mouthwatering food writing I've ever read. I can't recommend it enough!" —Cale Dietrich, author of The Love Interest and coauthor of If This Gets Out