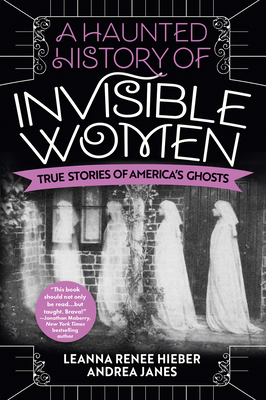 A Haunted History of Invisible Women: True Stories of America's Ghosts
Publication Date:
September 27th, 2022
Heartleaf Books
1 on hand, as of Mar 23 5:11pm
(Floor)
On Our Shelves Now
Description
"Deliciously eerie." —Leslie Rule, Bestselling Author
From the notorious Lizzie Borden to the innumerable, haunted rooms of Sarah Winchester's mysterious mansion this offbeat, insightful, first-ever book of its kind from the brilliant guides behind "Boroughs of the Dead," featured on NPR.org, The New York Times, and Jezebel, explores the history behind America's female ghosts, the stereotypes, myths, and paranormal tales that swirl around them, what their stories reveal about us—and why they haunt us . . .
Bram Stoker Award Finalist for Superior Achievement in Nonfiction

Sorrowful widows, vengeful jezebels, innocent maidens, wronged lovers, former slaves, even the occasional axe-murderess—America's female ghosts differ widely in background, class, and circumstance. Yet one thing unites them: their ability to instill fascination and fear, long after their deaths. Here are the full stories behind some of the best-known among them, as well as the lesser-known—though no less powerful.
Tales whispered in darkness often divulge more about the teller than the subject. America's most famous female ghosts, from from 'Mrs. Spencer' who haunted Joan Rivers' New York apartment to Bridget Bishop, the first person executed during the Salem witchcraft trials, mirror each era's fears and prejudices. Yet through urban legends and campfire stories, even ghosts like the nameless hard-working women lost in the infamous Triangle Shirtwaist Factory fire —achieve a measure of power and agency in death, in ways unavailable to them as living women.
Riveting for skeptics and believers alike, with humor, curiosity, and expertise, A Haunted History of Invisible Women offers a unique lens on the significant role these ghostly legends play both within the spook-seeking corners of our minds and in the consciousness of a nation.
"A Haunted History of Invisible Women looks beyond the legends of maligned female ghosts and gives us their real histories. It is both a meditation on the misogyny of a ghost-hunting culture that capitalizes on false narratives of sex and death, and a fascinating look at the flesh-and-blood women behind the ghost stories. This book is a long-overdue search for historic truth, yet it recognizes that "When it comes to ghosts, truth is as elusive as the spirits themselves." —Chris Woodyard, Author of The Victorian Book of the Dead.
Afterword by Bram Stoker Award-winning author Linda D. Addison
Praise for A Haunted History of Invisible Women: True Stories of America's Ghosts
Advanced Praise for A Haunted History of Invisible Women
 
"Delightfully harrowing and full of spine-tingling horrors, A HAUNTED HISTORY OF INVISIBLE WOMEN is not your average book of ghost stories. Hieber and Janes go far beyond the obvious thrills and chills, providing fascinating context and lavish detail in this incredibly empathetic book as they gently remind us not only of what we are but what we may become. You'll be thinking about this one long after you finish. Read it with the lights on!" —Deanna Raybourn, New York Times and USA Today bestselling author
 
"Thought-provoking and deliciously eerie, this intriguing study of phantom females not only delves into the history behind the legendary hauntings that chill our blood, but also gives detailed descriptions of real-life ghost encounters." —Leslie Rule, Bestselling Author
 
"This book accomplishes the impossible –to tell true stories of abuse, murder, horror, and the plight of women, and somehow make that an elegant and compelling piece of writing. This should not only be read…but taught. Brava!" —Jonathan Maberry, New York Times bestselling author of Relentless and Ink
 
"An absolute must-buy for the spooky people of the world. Hieber, and Janes lead the reader on a guided tour of America's most fascinating and noteworthy female ghosts that is utterly brilliant and deeply compelling. The authors examine these stories with a keen feminist lens and resurrect the real women behind them with respect they were seldom afforded in life. It's extraordinary to find a book that is so chilling, yet so full of heart. You'll find yourself haunted by these stories." —Mallory O'Meara, bestselling author of The Lady from the Black Lagoon and Girly Drinks
 
"A Haunted History of Invisible Women is a beautifully researched and well-written observation of women's ghosts across time. From the famous to the not-so-famous, their stories and the history surrounding them both fascinate and mesmerize. If this book doesn't leave with you a sense of wonder and a healthy dose of goosebumps, check your pulse—you may already be among the spirits." —Marc Hartzman, author of Chasing Ghosts: A Tour of Our Fascination with Spirits and the Supernatural
 
"This is the book I have always wanted to read. Expert storytellers Hieber, and Janes take us on tour through the lives of real women who would become legendary ghosts adding depth to stories I thought I knew and introducing me to characters I've never met before. With wit and empathy, A Haunted History brings the spirit of these women to life. Their stories are touching, shocking, inspiring, and intimately relatable. They tell the ways women have learned to navigate their world, to thrive, and live authentically against the odds. They reveal the ways society objectifies and classifies women who defy norms and challenge the expectations of their time. These ghosts still have something to say and have much to teach. —Leila Taylor,  author of Darkly: Black History and America's Gothic Soul. 
"Deeply researched and lovingly written by a powerhouse trinity of authors, A Haunted History of Invisible Women is the ultimate paranormal compendium on female ghosts of America. Not only is this a compulsively readable book, it'll send a chill down your spine while illuminating the dark shadows of a nation." —Kris Waldherr, author of The Lost History of Dreams and Unnatural Women: A Novel of the Frankenstein Women
"A Haunted History of Invisible Women looks beyond the legends of maligned female ghosts and gives us their real histories. It is both a meditation on the misogyny of a ghost-hunting culture that capitalizes on false narratives of sex and death, and a fascinating look at the flesh-and-blood women behind the ghost stories. This book is a long-overdue search for historic truth, yet it recognizes that "When it comes to ghosts, truth is as elusive as the spirits themselves." —Chris Woodyard, author of The Victorian Book of the Dead