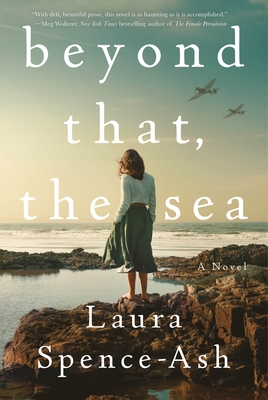 Beyond That, the Sea: A Novel
Publication Date:
March 21st, 2023
Usually Ships in 1 to 5 Days
When a family takes in a young British girl during World War II, she changes their lives and they change hers. Summers on a Maine island add to the wonder of the story. Told over decades and on both sides of the ocean, this story captured me.
April 2023 Indie Next List
Description
"Spence-Ash has written the novel in eight points of view, but each character is utterly three-dimensional and distinct. This debut novel captivated me from start to finish."
—Julia Quinn, author of the Bridgerton Series

A sweeping, tenderhearted love story, Beyond That, the Sea by Laura Spence-Ash tells the story of two families living through World War II on opposite sides of the Atlantic Ocean, and the shy, irresistible young woman who will call them both her own.
As German bombs fall over London in 1940, working-class parents Millie and Reginald Thompson make an impossible choice: they decide to send their eleven-year-old daughter, Beatrix, to America. There, she'll live with another family for the duration of the war, where they hope she'll stay safe.
Scared and angry, feeling lonely and displaced, Bea arrives in Boston to meet the Gregorys. Mr. and Mrs. G, and their sons William and Gerald, fold Bea seamlessly into their world. She becomes part of this lively family, learning their ways and their stories, adjusting to their affluent lifestyle. Bea grows close to both boys, one older and one younger, and fills in the gap between them. Before long, before she even realizes it, life with the Gregorys feels more natural to her than the quiet, spare life with her own parents back in England.
As Bea comes into herself and relaxes into her new life—summers on the coast in Maine, new friends clamoring to hear about life across the sea—the girl she had been begins to fade away, until, abruptly, she is called home to London when the war ends.
Desperate as she is not to leave this life behind, Bea dutifully retraces her trip across the Atlantic back to her new, old world. As she returns to post-war London, the memory of her American family stays with her, never fully letting her go, and always pulling on her heart as she tries to move on and pursue love and a life of her own.
As we follow Bea over time, navigating between her two worlds, Beyond That, the Sea emerges as a beautifully written, absorbing novel, full of grace and heartache, forgiveness and understanding, loss and love.
Praise for Beyond That, the Sea: A Novel
"The plot of Laura Spence-Ash's Beyond That, the Sea is rooted in the home-front upheavals of World War II, but it's also a timeless exploration of what it means to create a family, of how dreams can die and be reborn in surprising ways."
–The New York Times Book Review
"A young's woman's family loyalties are divided as she leaves her London home for Boston during WWII in Spence-Ash's magnetic debut... Readers will be riveted."
—Publishers Weekly, STARRED Review
"Beyond That, the Sea is a lovely, addictive novel. I was absorbed by the interesting premise—an eleven year old girl arrives to live, temporarily, with a new family—and by the myriad love stories that change and deepen over the decades the novel covers. Laura Spence-Ash has written a gorgeous novel filled with wonderful characters."
—Ann Napolitano, bestselling author of Dear Edward and Hello Beautiful, an Oprah Book Club Pick
"Beyond That, the Sea is a shimmering dive into a lost past. With deft, beautiful prose, Laura Spence-Ash brings us into the worlds—both inner and outer—of two families in wartime, and over the years that follow. This novel is as haunting as it is accomplished."
—Meg Wolitzer, The New York Times bestselling author of The Female Persuasion

"This gorgeous novel, about the profound impact on children and families of even the most benign forms of displacement, marks the debut of a very gifted writer. I adored Laura Spence-Ash's characters and deeply admired her precise, resonant prose. Beyond That, the Sea is a marvel."
—Ann Packer, author of The Dive from Clausen's Pier and The Children's Crusade
"In this beautiful novel, Laura Spence-Ash renders the last century with painterly precision. Beyond That, the Sea tells the story of a British girl taken in by a prosperous New England family in the Second World War, and of the legacy of the intimate relationships that ensue—a story as rich and vital as life."
—Claire Messud, bestselling author of The Emperor's Children and The Woman Upstairs
"I was utterly captivated by this beautiful story from the first page to the last. The characters are so real, their feelings so well portrayed that I had to keep reminding myself that I don't actually know them. But I do! And I will return to the book to experience the well-wrought details of these lives again. This is a new favorite novel, and I can only hope Laura Spence-Ash has more coming soon."
—Alice Elliott Dark, author of Fellowship Point and In the Gloaming
"In this exquisite novel, Laura Spence-Ash weaves a beautiful mosaic of voices, each a perfect postcard exploring home, love, loss and belonging that will entrance readers until the final, heartwarming page."
—Hannah Tinti, author of The Twelve Lives of Samuel Hawley and The Good Thief
"What a wonderful novel! I loved Beatrix as a girl, discovering America, and perhaps even more as a young woman, back in post-war London. Spence-Ash writes with such insight about her characters on both sides of the Atlantic and she is a mistress of suspense. I was deeply sorry to reach the last page."
—Margot Livesey, author of The Boy in the Field
"Readers will feel the pull of new fictional friends from the first to the last page, and long afterward....[in] this outstanding debut novelist's portrayal of her characters. Spence-Ash's first novel will appeal to fans of Pam Jenoff, Margot Livesey, and Ann Packer."
—Booklist
"Quietly stunning, with finely drawn characters and vivid descriptions, Beyond That, the Sea is a gorgeous, elegiac, novel about loss, family and the complexity of love."
—Shelf Awareness