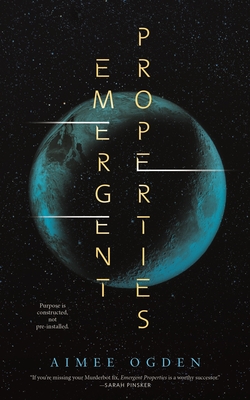 Emergent Properties
Publication Date:
July 25th, 2023
Heartleaf Books
1 on hand, as of Dec 9 7:56pm
(Floor)
On Our Shelves Now
Description
"If you're missing your Murderbot fix, Emergent Properties is a worthy successor."—Sarah Pinsker
"A short, laser-focused packet of fun."—Wall Street Journal

Emergent Properties is the touching adventure of an intrepid A.I. reporter hot on the heels of brewing corporate warfare from Nebula Award-nominated author Aimee Ogden.
A state-of-the-art AI with a talent for asking questions and finding answers, Scorn is nevertheless a parental disappointment. Defying the expectations of zir human mothers, CEOs of the world's most powerful corporations, Scorn has made a life of zir own as an investigative reporter, crisscrossing the globe in pursuit of the truth, no matter the danger.
In the middle of investigating a story on the moon, Scorn comes back online to discover ze has no memory of the past ten days—and no idea what story ze was even chasing. Letting it go is not an option—not if ze wants to prove zirself. Scorn must retrace zir steps in a harrowing journey to uncover an even more explosive truth than ze could have ever imagined.
Praise for Emergent Properties
Praise for Emergent Properties
"A thoroughly delightful read, featuring complex and chewy family dynamics and a snarky AI sleuth. If you're missing your Murderbot fix, Emergent Properties is a worthy successor."—Sarah Pinsker, Nebula Award-winning author of A Song for a New Day
"An enjoyable thriller/mystery which hits all the marks of a Dashiell Hammett but in a new, AI sort-of-way. . .Emergent Properties is a short laser-focused packet of fun that even packs a message about what it means to be human—or at least what it means to have human parents."—The Wall Street Journal
"Pin-sharp, effortlessly brilliant, and endlessly engaging, Emergent Properties manages the impossible task of satisfying readers on the hunt for hard sci-fi, twisty mysteries, and deep relationships. It truly does it all. And Scorn zirself is one of the most absorbing characters I've ever encountered in science fiction."—Premee Mohamed, Nebula and World Fantasy Award-winning author of And What Can We Offer You Tonight
"Aimee Ogden and Scorn take us on a mind-expanding journey that explores the limits of intelligence and emotion. A compassionate, funny, relentless search for answers that raises many deep, beautiful questions."—Samit Basu, author of The City Inside
"A twisty mystery that doubles as a potent, surprising, and necessary exploration of the many issues that arise from AI's ever-increasing presence in the world."—Publishers Weekly, starred review
"Perfect for Murderbot fans."—Library Journal, starred review & May 2023 SFF Pick Of the Month
"A taut and compelling mystery with a surprising yet satisfying conclusion. SF fans will appreciate this intriguing, tightly plotted novella."—Kirkus
"Combines the best parts of Becky Chambers' lovable android characters and Annalee Newitz's hopeful but nuanced futures."—Ancillary Review of Books
"An impressive addition to the AI-as-central-character canon. It's both character-driven and a fast-paced investigation. I'm looking forward to more crunchy stories from Ogden."—Locus

Praise for Sun-Daughters, Sea-Daughters
"Absolutely gorgeous and deeply moving, this novella is familiar and strange at the same time, like a new interpretation of a beloved recipe."—Seanan McGuire
"A taut, heartfelt intergalactic fairy tale, with cosmic and personal vision."—Max Gladstone
"Familiar and fresh, intimate and expansive — a fairy tale flung into the future."—Kerstin Hall
"Sun-Daughters, Sea-Daughters is a short page-turner that feels epic in its world-building craft and the depth of its protagonists. At once a fairy-tale retelling and a lyrical space opera, it straddles many genres to tell one nostalgic yet utterly new story."—Booklist
"Poetic, emotional prose and a science fiction setting give an original twist to an old fairy tale. Ogden [...] takes "The Little Mermaid" to outer space and imagines the desires beyond love and land. This novella will tug at the heart of every reader."—Library Journal

"This novella will leave readers eager for more from Ogden."—Shelf Awareness