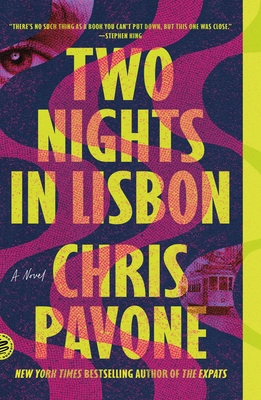 Two Nights in Lisbon: A Novel
This product is not returnable.
Publication Date:
May 2nd, 2023
Heartleaf Books
1 on hand, as of Dec 9 7:56pm
(Floor)
On Our Shelves Now
An edge-of-your-seat trip with Ariel Pryce, who wakes up one morning in their Lisbon hotel room to find that her husband John has disappeared. Your ideas on what is happening and who is involved will fly right out the window! Intriguing!
June 2022 Indie Next List
Description
AN INSTANT NEW YORK TIMES AND NATIONAL BESTSELLER

"There's no such thing as a book you can't put down, but this one was close." —Stephen King
"Smart suspense at its very best." —John Grisham
Tautly wound and expertly crafted, Two Nights in Lisbon is a riveting thriller about a woman under pressure, and how far she will go when everything is on the line.
You think you know a person . . .
Ariel Pryce wakes up in Lisbon alone. Her husband is gone—no warning, no note, not answering his phone. Something is wrong.
She starts with hotel security, then the police, then the American embassy, each time confronting questions she can't fully answer: What exactly is John doing in Lisbon? Why would he drag her along on his business trip? Who would want to harm him? And why does Ariel know so little about her new—and much younger—husband?
The clock is ticking. Ariel is increasingly frustrated and desperate, running out of time, and the one person in the world who can help is the person she least wants to ask.
Bestselling author Chris Pavone delivers sparkling prose and razor-sharp insights in this stunning and sophisticated thriller. Two Nights in Lisbon will stick with you long after the surprising final page.
Praise for Two Nights in Lisbon: A Novel
A Booklist's 2022 Editor's Choice Pick
An Instant New York Times Bestseller

"Mystifyingly well-constructed . . . a dynamic and wholly original story about privilege, power, and the price women pay so that others can maintain it." —The Los Angeles Times
"Clever and sharply written." —The Wall Street Journal
"This smart, calculating author remains many notches above others in his field" —The New York Times
"Devilishly clever . . . Wait until you read the ending that Pavone springs on you." —St. Louis Post-Dispatch
"Nothing is quite as it seems in this energetic thriller that calls into question marriage, loyalty, and truth." —The Washington Post
"A charged, multi-faceted thriller." —Air Mail
"There's no such thing as a book you can't put down, but this one was close."
—Stephen King
"I absolutely loved Chris Pavone's Two Nights in Lisbon, an unputdownable thriller that's his best novel yet. It stars a strong and savvy heroine who wakes up one morning to find her husband missing, and the action never lets up. This is a masterly, sleek, and sophisticated novel about love, marriage, and truth. Read it!"
—Lisa Scottoline, author of Eternal
"I defy anyone to read the first twenty pages of this breakneck novel, then try to put it down for five minutes. It can't be done. The plot is too devious, the pace is too gripping, and the characters are seldom who they are supposed to be. This is smart suspense at its very best."
—John Grisham, author of A Time for Mercy
"I always relish Chris Pavone's books, and this just might be my favorite yet, full of the canny asides and observations that set his work apart. The plot grips, the characters breathe, the gorgeous setting entices. Treat yourself!"
—Maggie Shipstead, author of Great Circle
"Two Nights in Lisbon is sensationally good—timely, important, layered with ticking suspense, driven by an ominous drumbeat that accelerates like a panicked heart. My thriller of the year so far."
—Lee Child, author of The Sentinel
"Chris Pavone's pacey, well-plotted thrillers are riveting and great fun to read, and Two Nights in Lisbon is his best yet. This one is not to be missed."
—Karin Slaughter, author of The Silent Wife
"Weaving together hairpin Hitchcockian suspense and true moral heft, Chris Pavone's Two Nights in Lisbon is his best yet—utterly timely and brimming over with surprise, nuance, cunning, and a palpable weight."
—Megan Abbott, author of The Turnout
"Two Nights in Lisbon is such a richly satisfying novel in so many different ways: it is a tense, intricately plotted thriller; a nuanced and moving character study; a sharp-eyed social critique; an immersive tour of a fascinating city and culture. I finished this book and immediately wanted to read it again."
—Lou Berney, author of November Road
"An elegantly twisting, lyrical, rocket-paced international thriller of the first order. With sterling prose, layered characters, searing insights, and gripping suspense, Chris Pavone writes with a deep knowledge of the world we live in—its many injustices, flaws, and the bending, dangerous road we sometimes must take to justice."
—Lisa Unger, author of Last Girl Ghosted
"Aside from the elegant writing and compelling characters, Two Nights in Lisbon manages to be a total barn burner, with twisty surprises from start to finish. I couldn't predict a thing, nor could I put it down."
—Lisa Lutz, author of The Swallows
"Chris Pavone's stylish, sophisticated thrillers are in a class of their own. In Two Nights in Lisbon he once again marries an explosive plot with an intimate and nuanced exploration of a marriage and the secrets we keep from those we love the most. I was rapt from the book's propulsive beginning to its deeply satisfying conclusion. An exceptional, exciting read."
—Cristina Alger, author of Girls Like Us