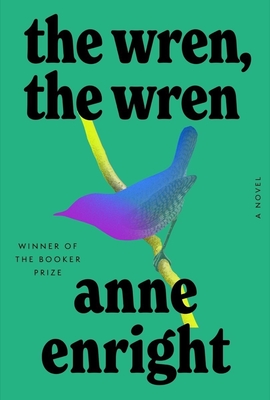 The Wren, the Wren: A Novel
Publication Date:
September 19th, 2023
Publisher:
W. W. Norton & Company
Usually Ships in 1 to 5 Days
Description
An NPR 2023 "Books We Love" Pick • One of The New Yorker's Best Books of the Year • One of the Washington Post's Best Books of the Year • One of Time's Best Books of 2023 • A Kirkus Best Book of the Year
An incandescent novel from one of our greatest living novelists (The Times) about the inheritance of trauma, wonder, and love across three generations of women.
Nell McDaragh never knew her grandfather, the celebrated Irish poet Phil McDaragh. But his love poems seem to speak directly to her. Restless and wryly self-assured, at twenty-two Nell leaves her mother Carmel's orderly home to find her own voice as a writer (mostly online, ghost-blogging for an influencer) and to live a poetical life. As she chases obsessive love, damage, and transcendence, in Dublin and beyond, her grandfather's poetry seems to guide her home.
Nell's mother, Carmel McDaragh, knows the magic of her Daddo's poetry too well—the kind of magic that makes women in their nighties slip outside for a kiss and then elope, as her mother Terry had done. In his poems to Carmel, Phil envisions his daughter as a bright-eyed wren ascending in escape from his hand. But it is Phil who departs, abandoning his wife and two young daughters. Carmel struggles to reconcile "the poet" with the father whose desertion scars her life, along with that of her fiercely dutiful sister and their gentle, cancer-ridden mother. To distance herself from this betrayal, Carmel turns inward, raising Nell, her daughter, and one trusted love, alone.
The Wren, the Wren brings to life three generations of McDaragh women who must contend with inheritances—of poetic wonder and of abandonment by a man who is lauded in public and carelessly selfish at home. Their other, stronger inheritance is a sustaining love that is "more than a strand of DNA, but a rope thrown from the past, a fat twisted rope, full of blood." In sharp prose studded with crystalline poetry, Anne Enright masterfully braids a family story of longing, betrayal, and hope.
Praise for The Wren, the Wren: A Novel
This is a powerful, thoughtful book by one of the great living writers on the subject of family. Speaking about love in terms both domestic and transcendent, Enright coos through newly connected wires.
— New York Times
[Enright's] poems have a language of their own that transcends time. Like the novel itself, they sing with grace and beauty and hard-hitting truth.
— Washington Post
An unstinting celebration of beauty. One of Ms. Enright's remarkable feats is to write believably across three generations, capturing epochal differences but also a buried, or even repressed, continuity.
— Wall Street Journal
The power of Enright's novel derives not so much from the age-old tale of men behaving badly, but from the beauty and depth of her own style. She's so deft at rendering arresting insights into personality types or situations. 
— Maureen Corrigan - NPR
Art as an illusion, love as a trap, the stranglehold of family ties: these are themes that Enright has already made her own. They are not just reprised here but honed to an essential honesty. Line for line, no one is more skilled than Enright at unfolding an unsettling scene. The Wren, The Wren is ruthless, raw stuff.
— The Guardian
The Wren, The Wren shows that her achievements continue apace: it may be her best book yet. Not only a triumph but a joy. 
— Irish Culture Times
A whirlwind of a novel.
— Irish Independent
An unforgettable read.
— Sunday Independent
The whip-smart latest from Booker winner Enright…fizzes with wit and bite. Enright's discomfiting and glimmering narrative leans toward a poetic sense of hope.
— Publishers Weekly (starred review)
The exceptional, multigarlanded Irish writer returns with a three-generation, woman-centered family portrait marked by 'inheritance, of both trauma and of wonder,' and melodious, poetic echoes. Lyrical poems of birds punctuate the text, as do snatches of cruelty and violence between men and women, sisters, men and animals, even parents and children. But the familial connections are indelible and enduring. Tender and truthful as ever, Enright offers a beguiling journey to selfhood.
— Kirkus Reviews (starred review)
Achingly beautiful.
— BookPage (starred review)
Enriched by searing if beautiful poetry, Enright's beseeching novel thrums with desire, heartache, and connection.
— Booklist (starred review)
One of the best novelists of her generation . . . I have no hesitation whatsoever in recommending this book. 
— RTE Radio 1
Gritty, sad, sly, riotous…[Enright's] gem-packed language fizzes like a sidewalk firecracker.
— Margaret Atwood via Twitter
To call Anne Enright's new novel a moving, nuanced glimpse at three generations of Irish life underplays its thrilling expansiveness: in the end, The Wren, The Wren is an electrifying romp through language itself—its dizzying possibilities and satisfactions—led by one the most gifted writers working in English today.
— Jennifer Egan, author of The Candy House
The Wren, The Wren is a magnificent novel. Anne Enright's stylistic brilliance seems to put the reader directly in touch with her characters and the rich territory of their lives.
— Sally Rooney, author of Beautiful World, Where Are You
A book of musical tenderness and devastating precision, The Wren, The Wren makes its own weather -- whilst reading, your heart will work to Enright's beat.
— Kiran Millwood Hargrave, author of The Dance Tree
These pages practically crackle with intelligence, compassion, and wit. Phil McDaragh is so real I almost googled him. The Wren, The Wren might just be Anne Enright's best yet.
— Louise Kennedy, author of Trespasses
Sharp, sudden, mischievous, sublime—this is a dazzling novel; a glorious multi-generational novel of tangled relationships, secrets, bodies, sex. Nell must be one of the best young women I've read in recent Irish fiction.
— Lucy Caldwell, author of These Days
Anne Enright has long been one of my influences, way back to when I was more a reader than a writer, and these days I regularly find myself returning to her work when I'm teaching fiction workshops. I absolutely loved The Wren, The Wren. What an utterly wonderful novel! It got into my very bones. It's magnificent. Proof once again that Anne can do things with sentences that nobody else can!
— Danielle McLaughlin, author of The Art of Falling