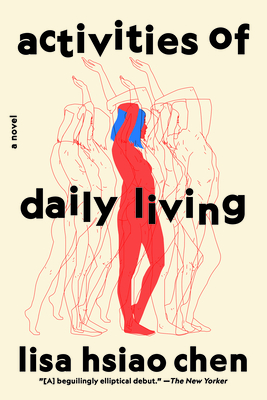 Activities of Daily Living: A Novel
Publication Date:
April 18th, 2023
Publisher:
W. W. Norton & Company
Heartleaf Books
1 on hand, as of Sep 22 8:09pm
(Floor)
On Our Shelves Now
Description
Finalist for the 2023 Gotham Book Prize and the PEN/Hemingway Award for Debut Novel
Longlisted for the 2023 Carol Shields Prize
A searching, sharply observed debut novel on the interconnection between work and life, loneliness and kinship, and the projects that occupy our time.
How do we take stock of a life—by what means, and by what measure? This is the question that preoccupies Alice, a Taiwanese immigrant in her late thirties. In the off-hours from her day job, Alice struggles to create a project about the enigmatic downtown performance artist Tehching Hsieh and his monumental, yearlong 1980s performance pieces. Meanwhile, she becomes the caretaker for her aging stepfather, a Vietnam vet whose dream of making traditional Chinese furniture dissolved in alcoholism and dementia.
As Alice roots deeper into Hsieh's radical use of time—in one piece, the artist confined himself to a cell for a year; in the next, he punched a time clock every hour, on the hour, for a year—and his mysterious disappearance from the art world, her project starts metabolizing events from her own life. She wanders from subway rides to street protests, loses touch with a friend, and tenderly observes her father's slow decline.
Moving between present-day and 1980s New York City, with detours to Silicon Valley and the Venice Biennale, this vivid debut announces Lisa Hsiao Chen as an audacious new talent. Activities of Daily Living is a lucid, intimate examination of the creative life and the passage of time.
Praise for Activities of Daily Living: A Novel
Chen wows in this tender debut novel... [She] develops an intelligent and deeply empathic portrayal of Alice witnessing her stepfather disappearing inside himself, and in doing so offers careful and illuminating observations on issues of cultural difference, productivity, family, and freedom. Chen's own project is masterly and memorable.
— Publishers Weekly (starred review)
[A] thoughtful and thoughtfilled meditation on time... Elegiac and revealing, Chen's debut illuminates the clock in our hearts.
— Kirkus Reviews (starred review)
Highly recommend for: fans of Chen's poetry; fans of Olivia Laing and/or Ben Lerner; anyone who's ever found themselves consumed by art; anyone who's fighting the very nature of time (and, really, who isn't?).
— Kaulie Lewis - Millions
From the making of art to the making of families, Lisa Hsiao Chen makes us realize the great beauty and courage found in everyday acts of care, work, endurance, and survival. Weaving between one daughter and her father, one artist and his work, Activities of Daily Living becomes a beguiling and brilliant meditation on what it means to live and die.
— Viet Thanh Nguyen, Pulitzer Prize–winning author of The Sympathizer and The Committed
Brilliant, fiercely honest, and exhilarating, Lisa Hsiao Chen's Activities of Daily Living illuminates the symbiotic relationship of art and life—the art of life, indeed. This is a riveting and memorable novel.
— Claire Messud, New York Times best-selling author of The Burning Girl
Activities of Daily Living is an exquisitely crafted archive that documents the living grief of witnessing a parent's slow descent while summoning to life a radical genealogy of artists and writers. This novel is proof of the transformational power of art, a sublime performance that left me enchanted!
— Azareen Van der Vliet Oloomi, PEN/Faulkner Award–winning author of Call Me Zebra and Savage Tongues
Activities of Daily Living is miraculously transformative of what it holds. Organized around the artworks of Tehching Hsieh and the act of witnessing a parent's end of life, a circumscribed but questing narrator synthesizes the chaos and fragments of time, death, and illness into a moving and brilliant arcade—a project about exceptional and quotidian endurances weaved together via lifesaving and heartbreaking bricolage.
— Eugene Lim, author of Search History
The meditative quest that unfolds from this novel's deceptively simple framework is as riveting as any page-turner. Filled with startling insight and moving detail, Activities of Daily Living will make you want to attend to life more fully—its joys as well as its griefs. What can literature do that other art forms can't? This book is the answer.
— Anelise Chen, author of So Many Olympic Exertions