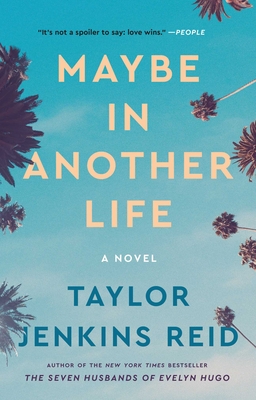 Maybe in Another Life: A Novel
Publication Date:
July 7th, 2015
Publisher:
Washington Square Press
Heartleaf Books
1 on hand, as of Dec 9 7:56pm
(Floor)
On Our Shelves Now
Description
From the New York Times bestselling author of The Seven Husbands of Evelyn Hugo
A People Magazine Pick * US Weekly "Must" Pick * Named "Best Book of the Summer" by Glamour * Good Housekeeping * USA TODAY * Cosmopolitan * PopSugar * Working Mother * Bustle * Goodreads
A breathtaking new novel about a young woman whose fate hinges on the choice she makes after bumping into an old flame; in alternating chapters, we see two possible scenarios unfold—with stunningly different results.
At the age of twenty-nine, Hannah Martin still has no idea what she wants to do with her life. She has lived in six different cities and held countless meaningless jobs since graduating college. On the heels of leaving yet another city, Hannah moves back to her hometown of Los Angeles and takes up residence in her best friend Gabby's guestroom. Shortly after getting back to town, Hannah goes out to a bar one night with Gabby and meets up with her high school boyfriend, Ethan.
Just after midnight, Gabby asks Hannah if she's ready to go. A moment later, Ethan offers to give her a ride later if she wants to stay. Hannah hesitates. What happens if she leaves with Gabby? What happens if she leaves with Ethan?
In concurrent storylines, Hannah lives out the effects of each decision. Quickly, these parallel universes develop into radically different stories with large-scale consequences for Hannah, as well as the people around her. As the two alternate realities run their course, Maybe in Another Life raises questions about fate and true love: Is anything meant to be? How much in our life is determined by chance? And perhaps, most compellingly: Is there such a thing as a soul mate?
Hannah believes there is. And, in both worlds, she believes she's found him.
Praise for Maybe in Another Life: A Novel
Praise for Maybe in Another Life:
"Entertaining and unpredictable; Reid makes a compelling argument for happiness in every life."
— Kirkus (starred review)
"Reid makes you think about love and destiny and then shows you the what could have been; I loved every word. A heartfelt, witty and scintillating journey from one parallel universe to another; Maybe in Another Life takes the concept of fate and makes it tangible and engrossing; I couldn't put this book down!"
— Renee Carlino
"Readers looking for a romance with a twist won't be disappointed"
— Library Journal
"If you're dying for a perfect beach read … Maybe in Another Life by Taylor Jenkins Reid"
— The Purist
Praise for After I Do:
"Taylor Jenkins Reid offers an entirely fresh and new perspective on what can happen after the "happily ever after." With characters who feel like friends and a narrative that hooked me from the first page, After I Do takes an elegant and incisively emotional look at the endings and beginnings of love. Put this book at the top of your must read list!"
— Jen Lancaster
"Written in a breezy, humorous style familiar to fans of Jane Green and Elin Hilderbrand, After I Do focuses on Lauren's journey of self-discovery. The intriguing premise and well-drawn characters contribute to an emotionally uplifting and inspiring story."
— Booklist
"As uplifting as it is brutally honest—a must-read."
— Kirkus on After I Do
"Touching and powerful...Reid masterfully grabs hold of the heartstrings and doesn't let go. A stunning first novel."
— Publishers Weekly, starred review on Forever, Interrupted
"Moving, gorgeous and, at times, heart-wrenching. Taylor Jenkins Reid writes with wit and true emotion that you can feel. Read it, savor it, share it."
— Sarah Jio
"Taylor Jenkins Reid writes with ruthless honesty, displaying an innate understanding of human emotion and creating characters and relationships so real I'm finding it impossible to let them go. After I Do is a raw, unflinching exploration of the realities of marriage, the delicate nature of love, and the enduring strength of family. Simultaneously funny and sad, heartbreaking and hopeful, Reid has crafted a story of love lost and found that is as timely as it is timeless."
— Katja Millay
Praise for Forever, Interrupted:
"A moving novel about life and death."
— Kirkus on Forever, Interrupted
"You'll laugh, weep and fly through each crazy-readable page."
— Redbook
"Sweet, heartfelt, and surprising, Forever Interrupted is a story about a young woman struggling to find her way after losing her husband. These characters made me laugh as well as cry, and I ended up falling in love with them, too."
— Sarah Pekkanen
"Taylor Jenkins Reid has written a poignant and heartfelt exploration of love and commitment in the absence of shared time that asks, what does it take to be the love of someone's life?"
— Emma McLaughlin and Nicola Kraus
"This beautifully rendered story explores the brilliance and rarity of finding true love, and how to find our way back through the painful aftermath of losing it. These characters will leap right off the page and into your heart."
— Amy Hatvany