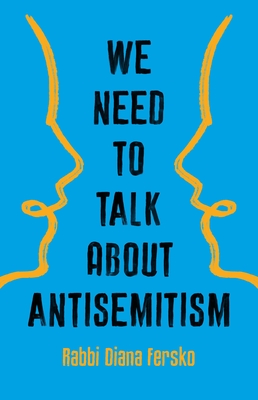 We Need to Talk About Antisemitism
Publication Date:
August 29th, 2023
Heartleaf Books
1 on hand, as of Oct 4 7:04pm
(Floor)
On Our Shelves Now
Description
A millennial rabbi explores why we're reluctant to discuss antisemitism—and empowers us to fight against it 
Antisemitism is on the rise in America, in cities and rural areas, in red states and blue states, and in guises both subtle and terrifyingly overt. Rabbi Diana Fersko is used to having difficult conversations with members of her congregation about the issues they face—from the threat of violence to microaggressions and identity denial. In We Need to Talk About Antisemitism, she gives all of us the ultimate guide to modern antisemitism in its many forms. 
Exploring topics like vile myths about Jewish people and the intersection of antisemitism with other forms of discrimination, We Need to Talk About Antisemitism gives readers the tools they need to understand the state of antisemitism today. Fersko shows Jews and non-Jews alike how to speak up and come together, spreading a message of solidarity and hope. This is a timely read for anyone passionate about fighting for social justice.  
Praise for We Need to Talk About Antisemitism
"We Need to Talk About Antisemitism is a vital book for our times. It should be required reading by school administrators, elected officials, business managers, others in leadership positions, or anyone else who cares about the state of Jews in modern America."—New York Journal of Books
"An essential read for anyone interested in any aspect of antiracism or diversity, equity, and inclusion, or who generally wants to understand the current climate for Jewish people."—Library Journal, starred review
"In this impassioned debut, Fersko examines recent manifestations of antisemitism in American culture, with the intent to provide accessible guidance 'to identifying and combatting Jew hatred today.' This is a fervent and heartfelt call to combat antisemitism."—Publishers Weekly
"An eye-opening and thought-provoking read."—Kirkus
"Rabbi Diana Fersko's book is written with passion, insight, and a deep commitment to the Jewish people. It shows how antisemitism enters different aspects of our life, sometimes without us realizing it. It is urgent to discuss these issues and Fersko demonstrates to us how to do so." —Natan Sharansky, human rights activist and author of The Case for Democracy
"In this clearly argued, readable, and passionate book, Rabbi Diana Fersko confronts the complicated set of poisonous ideas facing Jews in our times and seeks the tools and words to fight back. A crucial guide for those perplexed by the persistence of antisemitism and by what can be done about it." —Matti Friedman, author of Who by Fire
"'Antisemitism is complicated and confusing'—or so we all say. Rabbi Diana Fersko's book says otherwise, demystifying the convoluted subject with clarity, conviction, and real-life case studies. You'll find yourself emotionally invested, nodding, gasping, sighing and eye-rolling your way through a book that could be a 101 course or a PhD study guide. You'll be surprised that, with such a serious topic, you could thoroughly enjoy the read."—Amanda Berman, founder and Executive Director of the Zioness Movement