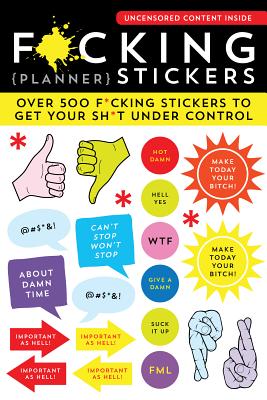 F*cking Planner Stickers: Over 500 f*cking stickers to get your sh*t under control (Calendars & Gifts to Swear By)
This product is not returnable.
Publication Date:
August 1st, 2019
Usually Ships in 1 to 5 Days
Description
Personalize and profane your planner with this set of over 500 d*mn hilarious stickers!
Seize the f*cking day and get sh*t done! For adults who love a funny sticker book or planner lovers who need some f*cking stickers to kick @ss all year, this sarcastic and hilarious sticker pack is for you! Accessorize with hundreds of bad@ss motivational stickers, laugh at the irreverent swears that get your sense of humor, or give as a fun white elephant gag gift or holiday stocking stuffer to foul-mouthed friends and family!
This variety pack includes:
Twelve pages of sticker sheets with over 500 quality stickers with permanent adhesive
Hilarious uncensored expletives, vibrant designs, and colorful graphics and phrases
Content ideal for organizers, calendars, bullet journals, vision board supplies, planner accessories, or scrapbooking kits for adults!
4" x 6" trim sizewith plastic polybag package