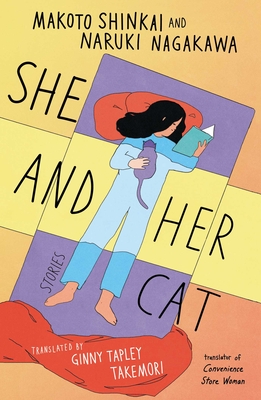 She and Her Cat: Stories
Publication Date:
November 22nd, 2022
Heartleaf Books
1 on hand, as of Dec 9 7:56pm
(Floor)
On Our Shelves Now
Description
For fans of Mieko Kawakami's Breasts and Eggs and Murata Sayaka's Earthlings, this Japanese bestseller from renowned anime director Makoto Shinkai features four inspirational and heartwarming vignettes following women and their cats in their quests for love and connection.
Lying alone on the edge of the sidewalk in an abandoned cardboard box, a nameless narrator contemplates the indifferent world around him. With his mother long gone, his only company is the sound of the nearby train. Just as he fears that the end is near, a young woman peers down at him, this fateful encounter changing their lives forever.
So begins the first story in She and Her Cat, a collection of four interrelated, stream-of-conscious short stories in which four women and their feline companions explore the frailty of life, the pain of isolation, and the limits of communication.
With clever narration alternating between the cats and their owners, She and Her Cat offers a unique and sly commentary on human foibles and our desire for connection. A whimsical short story anthology unlike any other, it effortlessly demonstrates that even in our darkest, most lonesome moments, we are still united to this wonderous world—often in ways we could never have expected.
Praise for She and Her Cat: Stories
"Read on their own or taken as a whole, these heartfelt, insightful stories offer a thematic continuum about the quiet burdens people bear in the modern, often isolated world and how human-animal interactions enrich and embolden lives." —Shelf Awareness
"Multiple shes and cats populate this gratifying, slim novel, which arrives with a decades-long history that undoubtedly underscores its timeless appeal....The greatest humanity, of course, is found in the complex, caring, and insightful four-footed characters." –Booklist
"[A] whimsical and moving linked collection...the author's earnest depictions of the friendships between people and felines produces genuine wonder…sure to satisfy readers looking for a quick pick-me-up." –Publishers Weekly