Discounted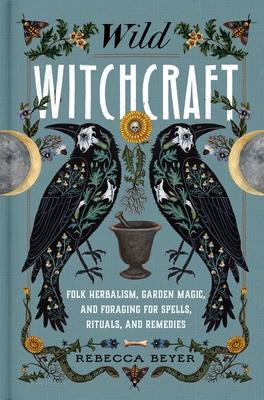 Wild Witchcraft: Folk Herbalism, Garden Magic, and Foraging for Spells, Rituals, and Remedies
Previous price:

$18.99
Current price:

$17.99
Publication Date:
May 10th, 2022
Publisher:
S&S/Simon Element
Usually Ships in 1 to 5 Days
Description
Learn how to cultivate your own magical garden, begin your journey with folk herbalism, and awaken to your place in nature through practical skills from an experienced Appalachian forager and witch.
Witchcraft is wild at heart, calling us into a relationship with the untamed world around us. Through the power of developing a relationship with plants, a witch—beginner or experienced—can practice their art more deeply and authentically by interacting with the beings that grow around us all. Bridging the gap between armchair witchcraft and the hedge witches of old, Wild Witchcraft empowers you to work directly with a wide variety of plants and trees safely and sustainably.
With Wild Witchcraft, Rebecca Beyer draws from her years of experience as an Appalachian witch and forager to give you a practical guide to herbalism and natural magic that will share:
-The history of witchcraft and Western herbalism
-How to create and maintain your own herbal garden
-Recipes for tinctures, teas, salves, and other potions to use in rites and rituals
-Spells, remedies, and rituals created with the wild green world around you, covering a range of topics, from self-healing to love to celebrating the turning of the seasons
-And much more!
Wild Witchcraft welcomes us home to the natural world we all dwell in by exploring practical folk herbal and magical rites grounded in historical practices and a sustainable, green ethic.
Praise for Wild Witchcraft: Folk Herbalism, Garden Magic, and Foraging for Spells, Rituals, and Remedies
"Deep background on herbal uses throughout history and across Appalachian, Native American, Anglo-Saxon, and West African folk medicine traditions sets this volume apart, particularly the illuminating opening section on the history of witchcraft and folk healing. Beyer's accessible guide bewitches and enlightens." —Publisher's Weekly starred review
"Rebecca Beyer provides a well-researched history of European witchcraft and American folk healing practices, followed by a solid introduction to growing and foraging healing herbs... Beyer covers much ground efficiently and makes a strong case for why these practices are especially necessary now." —Bookpage starred review