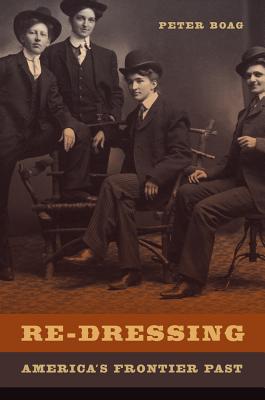 Re-Dressing America's Frontier Past
Publication Date:
September 1st, 2011
Publisher:
University of California Press
Heartleaf Books
1 on hand, as of Mar 23 5:11pm
(Floor)
On Our Shelves Now
Description
Americans have long cherished romantic images of the frontier and its colorful cast of characters, where the cowboys are always rugged and the ladies always fragile. But in this book, Peter Boag opens an extraordinary window onto the real Old West. Delving into countless primary sources and surveying sexological and literary sources, Boag paints a vivid picture of a West where cross-dressing—for both men and women—was pervasive, and where easterners as well as Mexicans and even Indians could redefine their gender and sexual identities. Boag asks, why has this history been forgotten and erased? Citing a cultural moment at the turn of the twentieth century—when the frontier ended, the United States entered the modern era, and homosexuality was created as a category—Boag shows how the American people, and thus the American nation, were bequeathed an unambiguous heterosexual identity.
Praise for Re-Dressing America's Frontier Past
"This is fascinating stuff, on many levels. . . . If you're a western history buff especially, you need to outfit yourself with this book soon."
— Inland Empire Weekly
"A extremely valuable work."
— Blake Allmendinger
"Challenging, informative work. . . . Highly recommended."
— S. D. Reschly
"A lovely (and at times wry) new volume."
— Daniel Hurewitz
"Fascinating. . . . [An] impressive contribution to western and gender history."
— Richard Stott
"Because it uncovers a wealth of stories that are overdue for telling, Re-Dressing America's Frontier Past is the ticket. If you're a western history buff especially, you need to outfit yourself with this book soon."
— Terri Schlichenmeyer
"Absorbing and essential reading for those interested in transgender history, the history of sexuality, and the history of the American West."
— Pacific Historical Review
"Innovative. . . . Fascinating. . . . Original and convincing. . . . With a keen scholarly edge, [Boag] successfully breaks down gender and sexual binaries."
— Michael J. Lansing, Augsburg College
"The recovery of these accounts over a century later is an important step toward understanding a hitherto hidden aspect of our frontier past."
— Terri Schlichenmeyer