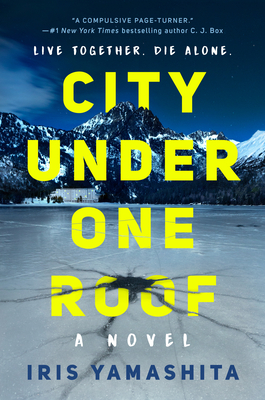 City Under One Roof
Publication Date:
January 10th, 2023
Usually Ships in 1 to 5 Days
I couldn't help feeling claustrophobic with the closed in atmosphere of the setting and being cut off from the outside world. It's sinister as almost everyone is hiding from something, but you don't know what, or who, to trust. Loved it!
January 2023 Indie Next List
Description
A stranded detective tries to solve a murder in a tiny Alaskan town where everyone lives in a single high-rise building, in this gripping debut by an Academy Award–nominated screenwriter.
When a local teenager discovers a severed hand and foot washed up on the shore of the small town of Point Mettier, Alaska, Cara Kennedy is on the case. A detective from Anchorage, she has her own motives for investigating the possible murder in this isolated place, which can be accessed only by a tunnel.
 
After a blizzard causes the tunnel to close indefinitely, Cara is stuck among the odd and suspicious residents of the town—all 205 of whom live in the same high-rise building and are as icy as the weather. Cara teams up with Point Mettier police officer Joe Barkowski, but before long the investigation is upended by fearsome gang members from a nearby native village.
 
Haunted by her past, Cara soon discovers that everyone in this town has something to hide. Will she be able to unravel their secrets before she unravels?
Praise for City Under One Roof
"Captivating." -- New York Times Book Review
"Yamashita deliciously exploits the eerie mystique of Whittier [and] conjures up fresh plot twists galore." Washington Post
"[An] atmospherically charged debut…that leads to a spellbinding, unforgettable climax and an unpredictable resolution….This distinctively original perspective on a 'community of stragglers, oddballs, and recluses' heralds the arrival of a major new talent."—Publishers Weekly (starred review)
"The claustrophobic atmosphere in this unique one-building town, isolated by tunnels, weather, and secrets, builds a memorable debut crime novel."—Library Journal (starred review)

"An urban Alaska detective unlocks menacing secrets in a frigid, sinister small town. . . .[R]iddles large and small add fuel to the mystery on the way to the final solution. An offbeat, sharply written thriller." – Kirkus Reviews (starred review)
"Yamashita knows how to keep her pages turning with plenty of close-up-ready characters…[her] plotting proves addictive." -- Booklist
"City Under One Roof is a gripping, unsettling and oppressive thriller that welcomes a wonderful new talent to the genre. Prepare to be quickly immersed in this dark and moody murder mystery."—Mary Kubica, New York Times bestselling author of Local Woman Missing
 
"Northern Exposure meets Dexter in this clever thriller in which an isolated community is rocked by a twisted murder, increasingly dark secrets and the terrifying knowledge that the people they always thought they knew are now the ones they should fear the most."—Lisa Gardner, #1 New York Times bestselling author of One Step Too Far
 
"Electric and fast-paced, this debut thriller is a testament to Yamashita's skills as a storyteller. There's no escape from the isolated Alaska setting for either the murder investigator or the reader . . .I couldn't come out until I read the final page."—Naomi Hirahara, Edgar-winning author of Clark and Division
 
"Iris Yamashita delivers! Compelling characters, clever plot twists, and a story that will chill you to your bones. . . . [A] must-read thriller."–Laura Griffin, New York Times bestselling author of The Texas Murder Files
2023-01-24
"Iris Yamashita blasts into the world of crime fiction by doing something spectacular: introducing us to a totally unique location and sub-culture.  A compulsive page-turner that's both atmospheric and claustrophobic at the same time."—C.J. Box, #1 New York Times bestselling author of Shadows Reel

"A well-crafted novel, told through the eyes of three very different women, with a wonderfully claustrophobic and atmospheric background."—Ann Cleeves, New York Times bestselling author of The Long Call and Vera Stanhope novels

"Clever and claustrophobic, dark and atmospheric, the well-crafted, expertly executed City Under One Roof is crime fiction at its best. It's a perfect winter read, guaranteed to hold your attention rapt."  --Mystery Scene Magazine