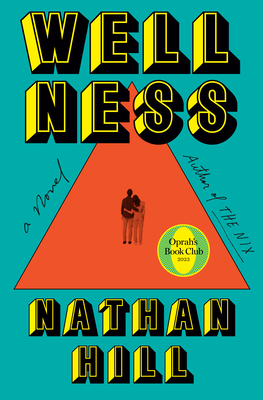 Wellness: A novel
Publication Date:
September 19th, 2023
Heartleaf Books
1 on hand, as of Dec 9 7:56pm
(Floor)
On Our Shelves Now
Wellnesswill capture your heart from the very beginning. Heartbreaking, funny, thoughtful, endearing — readers will be entranced by Jack and Elizabeth's story as they struggle for the elusive life of family, truth, and true love.
October 2023 Indie Next List
Description
NEW YORK TIMES BESTSELLER • OPRAH'S BOOK CLUB PICK • The New York Times best-selling author of The Nix is back with a poignant and witty novel about a modern marriage and the bonds that keep people together. Mining the absurdities of contemporary society, Wellness reimagines the love story with a healthy dose of insight, irony, and heart.

"A stunning novel about the stories that we tell about our lives and our loves, and how we sustain relationships throughout time—it's beyond remarkable, both funny and heartbreaking, sometimes on the same page." —NPR
When Jack and Elizabeth meet as college students in the gritty '90s Chicago art scene, the two quickly join forces and hold on tight, each eager to claim a place in the thriving underground scene with an appreciative kindred spirit. Fast-forward twenty years to suburban married life, and alongside the challenges of parenting, they encounter the often-baffling pursuits of health and happiness from polyamorous would-be suitors to home-renovation hysteria. 
 
For the first time, Jack and Elizabeth struggle to recognize each other, and the no-longer-youthful dreamers are forced to face their demons, from unfulfilled career ambitions to childhood memories of their own dysfunctional families. In the process, Jack and Elizabeth must undertake separate, personal excavations, or risk losing the best thing in their lives: each other.
Praise for Wellness: A novel
"A modern take on love, marriage, and society's obsession on improving almost every aspect of our lives–and the impact technology and social media has on our culture and in our lives. This brilliant novel will leave you thinking about the truth of your own life and the stories we tell ourselves and each other." –Oprah Winfrey
"Gorgeous . . . Wellness has an insistent pull . . . The beauty of Hill's second novel is that every character is at least a little strange and no one is unworthy of sympathy . . . Few recent novels harbor as much love for humanity as this one does." –The Washington Post
"Wellness is a perfect novel for our age . . . Hill is an immensely talented writer; he has a gift for prose that's elegant but unshowy, and his dialogue consistently rings true-to-life . . . a stunning novel about the stories that we tell about our lives and our loves, and how we sustain relationships throughout time — it's beyond remarkable, both funny and heartbreaking, sometimes on the same page." —NPR
"Lovely . . . Hill's storytelling abilities are impressive . . . his novels vividly capture lonely Midwestern childhoods and real yearning for connection and understanding." —The New York Times

"I read Hill's novel with excitement and close to a sense of disbelief that there is still a writer out there who is intrigued by amplitude and by what fiction can do if pushed far enough." —Daphne Merkin, The Atlantic
"Hill is witty at exposing the ways intelligence and social background don't necessarily make us more immune to manipulation . . . [Wellness] masterfully withholds information about crucial plot points, suggesting that moments of seeming happenstance almost always involve somebody's thumb on the scale." —The Los Angeles Times
"Wellness brilliantly blends ideas about wellness culture, modern parenting, Internet algorithms, gentrification, and most importantly, love." —People
"A hilarious and moving exploration of a modern marriage that astounds in its breadth and intimacy." —Brit Bennett, author of The Vanishing Half
"Wellness is such a beautiful, sometimes sad, sometimes satirical but most of all honest book about the many people a person becomes—the way a life, in time, inevitably upends itself. A love story of dislodged chronology, Nathan Hill's brilliant interrogation of a single relationship spiderwebs out into almost every facet of our contemporary anxieties. Few writers working today have dissected, with such a sharp scalpel, the fundamental paradox of modern American life: this hopelessly broken need to fix what may not need fixing, to reach with utter desperation for a version of better that may not be better at all. Read Wellness with caution: it lays so much of our little self-deceptions bare." — Omar El Akkad, author of American War
"Nathan Hill has synthesized about a hundred years of that distinctly American delusion called self-improvement, and Wellness is the whip smart and gently comic result. Epic in scope, domestic in scale, it's a book that defies anyone to read it and willingly pick up a dumbbell or worry about counting steps ever again. Hill has released you, America, and his book will leave you not only fortified but amazed." —Joshua Ferris, author of Then We Came to the End
"Wellness is one of the funniest, saddest, smartest novels I've ever read. In his portrait of one foundering marriage, Nathan Hill has encapsulated the pathologies and possibilities of our troubled era. With his razor-sharp satire and heartbreaking pathos, his stylistic virtuosity and human warmth, Hill has written both a propulsive page-turner and an artistic achievement of the highest order. I didn't think I could love a book more than The Nix until I read Wellness. It's a flat-out masterpiece."—Anthony Marra, author of A Constellation of Vital Phenomena

"Ambitious, deeply engrossing, whip-smart and ultimately heartbreaking, Nathan Hill's Wellness is all this and much more." —Richard Russo, author of the North Bath Trilogy
"Astutely observed, hilariously satirical . . . Hill's prose is radiant and ravishing throughout this saturated, intricately honeycombed novel of delving cogitation as he evokes the wonders of the prairie and the city, and the ever-perplexing folly, anguish, and beauty of the human condition." —Booklist (starred review)
"Hill blends a family chronicle with cultural critique in his expansive and surprisingly tender latest . . . This stunning novel of ideas never loses sight of its humanity." —Publishers Weekly (starred review)
"Warmhearted . . . A bittersweet novel of love gained, lost, and regained over the course of decades." —Kirkus Reviews