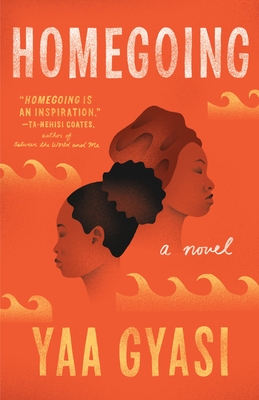 Homegoing
Publication Date:
May 2nd, 2017
Usually Ships in 1 to 5 Days
Homegoing is an epic narrative that is sure to become a treasured staple. Two sisters in Ghana are marked by fiery tragedy: one is married off to an English slave trader, and the other is sold to be a slave in America. The story follows their descendants generation by generation. Homegoing will break your heart over and over, impress you with the resilience of the human spirit and the amazing power of forgiveness, and leave you optimistic and in awe.
June 2016 Indie Next List
Description
INTERNATIONAL BESTSELLER • WINNER OF THE NATIONAL BOOK CRITICS CIRCLE'S JOHN LEONARD PRIZE • WINNER OF THE PEN / HEMINGWAY AWARD FOR DEBUT FICTION • Ghana, eighteenth century: two half sisters are born into different villages, each unaware of the other. One will marry an Englishman and lead a life of comfort in the palatial rooms of the Cape Coast Castle. The other will be captured in a raid on her village, imprisoned in the very same castle, and sold into slavery.

One of Oprah's Best Books of the Year, Homegoing follows the parallel paths of these sisters and their descendants through eight generations: from the Gold Coast to the plantations of Mississippi, from the American Civil War to Jazz Age Harlem. Yaa Gyasi's extraordinary novel illuminates slavery's troubled legacy both for those who were taken and those who stayed—and shows how the memory of captivity has been inscribed on the soul of our nation.
Praise for Homegoing
Winner of the National Book Critics Circle's John Leonard Prize for Outstanding First Book
Winner of the PEN/Hemingway Award for Debut Fiction
Finalist for the PEN/Robert W. Bingham Prize for Debut Fiction
Runner-up of the 2017 Dayton Literary Peace Prize in fiction
Longlisted for the International Dylan Thomas Prize
Nominated for the Center for Fiction First Novel Prize
A New York Times Notable Book • A Washington Post Notable Book • A Time Top Novel • An Oprah Favorite Book • A Guardian Best Book • An Entertainment Weekly Best Book • A Buzzfeed Best Book • A BBC Best Book • An Esquire Best Book • An Atlantic Best Book • A Kirkus Reviews Best Book • An NPR Best Book • A Harper's Bazaar Best Book • An Elle Best Book • A Paste Magazine Best Book • A Jezebel Best Book • An A.V. Club Favorite Book • A British GQ Best Book • A Popsugar Best Book • A Financial Times Best Book
"Homegoing is an inspiration." —Ta-Nehisi Coates
"Spectacular." —Zadie Smith
"Powerful. . . . Compelling. . . . Illuminating." —The Boston Globe
 
"A blazing success." —Los Angeles Times
 
"I could not put this book down." —Roxane Gay

"Devastating. . . . Luminous." —Entertainment Weekly
 
"A beautiful story." —Trevor Noah, The Daily Show

"Spellbinding." —Minneapolis Star Tribune
"Dazzling. . . . Devastating. . . . Truly captivating." —The Washington Post
"Brims with compassion. . . . Yaa Gyasi has given rare and heroic voice to the missing and suppressed." —NPR
 
"Tremendous . . . Spectacular. . . . Essential reading." —San Francisco Chronicle
"Magical. . . . Hypnotic. . . . Yaa Gyasi [is] a stirringly gifted writer." —The New York Times Book Review

"Powerful. . . . Gyasi has delivered something unbelievably tough to pull off: a centuries-spanning epic of interlinked short stories. . . . She has a poet's ability to pain a scene with a handful of phrases." —The Christian Science Monitor

"Thanks to Ms. Gyasi's instinctive storytelling gifts, the book leaves the reader with a visceral understanding of both the savage realities of slavery and the emotional damage that is handed down, over the centuries. . . . By its conclusion, the characters' tales of loss and resilience have acquired an inexorable and cumulative emotional weight." —The New York Times

"[Toni Morrison's] influence is palpable in Gyasi's historicity and lyricism; she shares Morrison's uncanny ability to crystalize, in a single event, slavery's moral and emotional fallout. . . . No novel has better illustrated the way in which racism became institutionalized in this country." —Vogue

"Gyasi gives voice, and an empathetic ear, to the ensuing seven generations of flawed and deeply human descendants, creating a patchwork mastery of historical fiction." —Elle
"A remarkable feat—a novel at once epic and intimate, capturing the moral weight of history as it bears down on individual struggles, hopes, and fears. A tremendous debut." —Phil Klay, National Book Award-winning author of Redeployment

"Rich. . . . Fascinating. . . . Each chapter is tightly plotted, and there are suspenseful, even spectacular climaxes." —Vulture

 "[A] commanding debut . . . will stay with you long after you've finished reading. When people talk about all the things fiction can teach its readers, they're talking about books like this." —Marie Claire
"Homegoing weaves a spectacular epic. . . . Gyasi gives voice not just to a single person or moment, but to a resonant chorus of eight generations." —Los Angeles Review of Books

"Moving. . . . Compelling. . . . Gyasi is an enormously talented writer." —The Dallas Morning News

"I cannot remember the last time I read a novel that made me want to use the adjective perfect. . . . Yaa Gyasi's Homegoing is a feat rarely achieved: a book with the scope of world history and the craft of something much smaller. . . . The cumulative effect is staggering." —Molly McArdle, Brooklyn Magazine 

"Carrying on in the tradition of her foremothers—like Toni Morrison, Edwidge Danticat, Assia Djebar and Bessie Head—Gyasi has created a marvelous work of fiction that both embraces and re-writes history." —Paste

"Impressive . . . intricate in plot and scope. . . . Homegoing serves as a modern-day reconstruction of lost and untold narratives—and a desire to move forward." —Miami Herald
"Heart-wrenching . . . . Yaa Gyasi's assured Homegoing is a panorama of splendid
faces." —Atlanta Journal-Constitution

"A remarkable achievement, marking the arrival of a powerful new voice in fiction." —St. Louis Post-Dispatch

"Luminous. . . . The author thrillingly depicts her characters' migrations from mud-hut villages to Harlem's jazz clubs to Ghana's silvered beaches, celebrating how place and fate shape us all." —Oprah.com
"Epic . . . a timely, riveting portrayal of the global African Diaspora—and the aftereffects that linger on to this day." —The Root
"An emotional, beautiful, and remarkable book. . . . Homegoing is stunning—a truly heartbreaking work of literary genius." —Bustle

"An important, riveting page-turner filled with beautiful prose, Homegoing shoots for the moon and lands right on it." —Buzzfeed