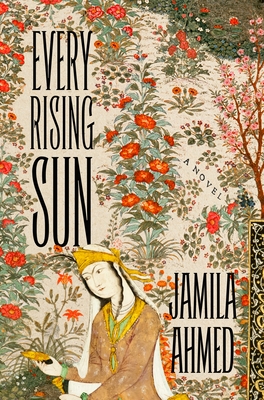 Every Rising Sun: A Novel
Publication Date:
July 18th, 2023
Publisher:
Henry Holt and Co.
Heartleaf Books
1 on hand, as of Dec 9 7:56pm
(Floor)
On Our Shelves Now
Description
Named a Best Book of 2023 by NPR
In this riveting take on One Thousand and One Nights, Shaherazade, at the center of her own story, uses wit and political mastery to navigate opulent palaces brimming with treachery and the perils of the Third Crusade as her Persian homeland teeters on the brink of destruction.
In twelfth century, Persia, clever and dreamy Shaherazade stumbles on the Malik's beloved wife entwined with a lover in a sun-dappled courtyard. When Shaherazade recounts her first tale, the story of this infidelity, to the Malik, she sets the Seljuk Empire on fire.
Enraged at his wife's betrayal, the once-gentle Malik beheads her. But when that killing does not quench his anger, the Malik begins to marry and behead a new bride each night. Furious at the murders, his province seethes on rebellion's edge. To suppress her guilt, quell threats of a revolt, and perhaps marry the man she has loved since childhood, Shaherazade persuades her beloved father, the Malik's vizier, to offer her as the next wife. On their wedding night, Shaherazade begins a yarn, but as the sun ascends she cuts the story short, ensuring that she will live to tell another tale, a practice she repeats night after night.
But the Malik's rage runs too deep for Shaherazade to exorcise alone. And so she and her father persuade the Malik to leave Persia to join Saladin's fight against the Crusaders in Palestine. With plots spun against the Seljuks from all corners, Shaherazade must maneuver through intrigue in the age's greatest courts to safeguard her people. All the while, she must keep the Malik enticed with her otherworldly tales—because the slightest misstep could cost Shaherazade her head.
This suspenseful first-person retelling is vividly rendered through the voice of a fully imagined Shaherazade, a book lover whose late mother bestowed the gift of story that becomes her power. Created over fourteen years of writing and research, Jamila Ahmed's gorgeously written debut is a celebration of storytelling and a love letter to the medieval Islamic world that brings to life one of the most enduring and intriguing woman characters of all time.
Praise for Every Rising Sun: A Novel
Shondaland, "The Best Stories About Storytelling"
"Lyrically imaginative . . . enthralling."
—The Guardian
"Weaving together magical fables and real history, Every Rising Sun established Ahmed as a writer to watch."
—Parade
"Jamila Ahmed's well-crafted debut is a revisionist retelling of One Thousand and One Nights, foregrounding Scheherazade in a real historical period and even allowing her a different ending.It's one thing to boldly take on this much-debated, well-known literary classic. To then turn its conventional – and, let's be honest, tired – tropes upside down and inside out is a literary feat deserving of our recognition and respect."
—Jenny Bhatt, NPR
"Jamila Ahmed's Every Rising Sun is a beautifully imagined and fiercely feminist retelling of a cherished classic—and an audacious new invention all her own. You won't want to miss Ahmed's gorgeous writing, this rich and vibrant world, and of course, Shaherazade, a timeless heroine who speaks with an urgency it's impossible to deny. I turned the last page, grateful to be reminded of how during humanity's darkest nights, stories are what keep us alive."
—V. V. Ganeshananthan, author of Brotherless Night
"Richly imagined and sumptuously told. . . . Ahmed deftly interweaves history and myth to create a world that is as compelling as it is magical. Every chapter leaves you eager to sit at Shaherazade's feet once more."
—​​G. Willow Wilson, author of The Bird King and co-creator of the award-winning comic series Ms. Marvel
"A sumptuous, delicious novel infused with the joys of storytelling. A bold, heady journey into the riches and passions of Crusader history, presenting a fresh and fascinating Muslim perspective."
—Leila Aboulela, award-winning author of The Translator and River Spirit
"Beautifully rendered. . . . The exceptionally well-realized characters and Shaherazade's enchanting stories are major reasons for its success."
—Booklist, starred review