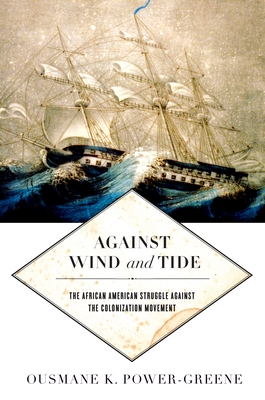 Against Wind and Tide: The African American Struggle Against the Colonization Movement (Early American Places #10)
Publication Date:
September 5th, 2014
Publisher:
New York University Press
Usually Ships in 1 to 5 Days
Description
Against Wind and Tide tells the story of African American's battle against the American Colonization Society (ACS), founded in 1816 with the intention to return free blacks to its colony Liberia. Although ACS members considered free black colonization in Africa a benevolent enterprise, most black leaders rejected the ACS, fearing that the organization sought forced removal. As Ousmane K. Power-Greene's story shows, these African American anticolonizationists did not believe Liberia would ever be a true "black American homeland." In this study of anticolonization agitation, Power-Greene draws on newspapers, meeting minutes, and letters to explore the concerted effort on the part of nineteenth century black activists, community leaders, and spokespersons to challenge the American Colonization Society's attempt to make colonization of free blacks federal policy. The ACS insisted the plan embodied empowerment. The United States, they argued, would never accept free blacks as citizens, and the only solution to the status of free blacks was to create an autonomous nation that would fundamentally reject racism at its core. But the activists and reformers on the opposite side believed that the colonization movement was itself deeply racist and in fact one of the greatest obstacles for African Americans to gain citizenship in the United States. Power-Greene synthesizes debates about colonization and emigration, situating this complex and enduring issue into an ever broader conversation about nation building and identity formation in the Atlantic world.