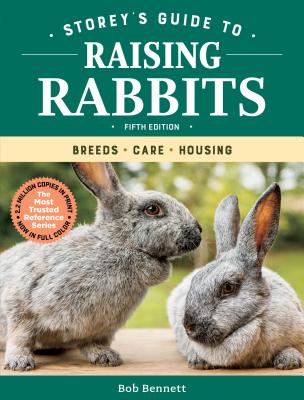 Storey's Guide to Raising Rabbits, 5th Edition: Breeds, Care, Housing (Storey's Guide to Raising)
Publication Date:
July 10th, 2018
Publisher:
Storey Publishing, LLC
Usually Ships in 1 to 5 Days
Description
The fifth edition of this best-selling handbook features the same detailed approach that has made it the trusted source for raising healthy, productive rabbits — plus a total redesign with color photos and graphics. Whether you're interested in raising rabbits for show, meat, fur, or as pets, this comprehensive guide offers expert advice on breed selection, housing, feeding, humane handling, and more. In addition, author Bob Bennett includes the most up-to-date information on preventive health care, treating diseases, marketing, and showing.
Praise for Storey's Guide to Raising Rabbits, 5th Edition: Breeds, Care, Housing (Storey's Guide to Raising)
"Bob Bennett lays out a simple and successful management plan for the beginning breeder of rabbits for meat or show. The most difficult decision will be choosing a breed from among those beautifully photographed in this new edition." — Gail Damerow, editor of The Backyard Homestead Guide to Raising Farm Animals
"You may catch yourself reading the incredibly helpful foundational information in a sitting or two, because it's written with wit and humor and just fun to read." — Karen Patry, author of The Rabbit-Raising Problem Solver
 "Whether you are a novice or an experienced breeder, this book is a MUST HAVE in your library. Bob's knowledge and experience will help you." — George Larue, ARBA Judge and Registrar
"A delightful guide full of important information for everyone who wants to enjoy the companionship of rabbits. Learn from the best." — Bonny Wagoner, former editor of the Tan Tribune
"A great complete 'all rabbit topics covered' resource for rabbit enthusiasts from beginners to seasoned raisers, it's in here." --Debbie Vigue, Blackberry Farm Rabbitry, Maine
 
"Bob Bennett lays out a simple and successful management plan for the beginning breeder of rabbits for meat or show. The most difficult decision will be choosing a breed from among those beautifully photographed in this new edition." — Gail Damerow, editor of The Backyard Homestead Guide to Raising Farm Animals
"You may catch yourself reading the incredibly helpful foundational information in a sitting or two, because it's written with wit and humor and just fun to read." — Karen Patry, author of The Rabbit-Raising Problem Solver
 "Whether you are a novice or an experienced breeder, this book is a MUST HAVE in your library. Bob's knowledge and experience will help you." — George Larue, ARBA Judge and Registrar
"A delightful guide full of important information for everyone who wants to enjoy the companionship of rabbits. Learn from the best." — Bonny Wagoner, former editor of the Tan Tribune
"A great complete 'all rabbit topics covered' resource for rabbit enthusiasts from beginners to seasoned raisers, it's in here." --Debbie Vigue, Blackberry Farm Rabbitry, Maine