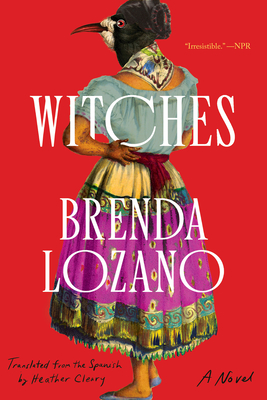 Witches: A Novel
Publication Date:
September 12th, 2023
Heartleaf Books
1 on hand, as of Oct 4 7:04pm
(Floor)
On Our Shelves Now
Description
The beguiling story of a young journalist whose investigation of a murder leads her to the most legendary healer in all of Mexico, from one of the most prominent voices of a new generation of Latin American writers
Paloma is dead. But before she was murdered, before she was even Paloma, she was a traditional healer named Gaspar. Before she was murdered, she taught her cousin Feliciana the secrets of the ceremonies known as veladas, and about the Language and the Book that unlock their secrets.
Sent to report on Paloma's murder, Zoe meets Feliciana in the mountain village of San Felipe. There, the two women's lives twist around each other in a danse macabre. Feliciana tells Zoe the story of her struggle to become an accepted healer in her community, and Zoe begins to understand the hidden history of her own experience as a woman, finding her way in a hostile environment shaped by and for men.
Weaving together two parallel narratives that mirror and refract one another, this extraordinary novel envisions the healer as storyteller and the writer as healer, and offers a generous and nuanced understanding of a world that can be at turns violent and exultant, cruel and full of hope.
"A story of the world's repeated failure to control feminine power and the sheer magic of language itself. An enthralling, passionate story about secrets both holy and profane." —Catherine Lacey, author of Pew and Nobody Is Ever Missing
Praise for Witches: A Novel
A Kirkus Reviews Best Book of The Year
A Time Best Book of the Month
A World Literature Today Notable Book
Named a Most Anticipated Book by Bustle, NYLON, Literary Hub, and The Millions
"Feliciana's sections are looping and abstract, while Zoe's are as clipped and sharp as any journalist's writing would be. The contrast between them is irresistible . . . Lozano writes their stories, and their growing connection, with such warmth that often reading Witches feels like sneaking into Feliciana's house with Zoe. By the end, the novel feels like a community." —Lily Meyer, NPR

"Set in Mexico, this is a layered, kaleidoscopic and powerful story exploring relationships, fluidity, pain, healing, power and patriarchy." —Karla Strand, Ms.
"The magic within the text of Witches exists in language . . . Lozano's interest in the fluidity of a piece of art mirrors Witches' own interest in fluidity—of gender, time, and even the perception of reality . . . In her Loop, an unnamed diarist explores the awful reality of gender-based violence, but in Witches, Lozano uses it as a point of connection for Feliciana and Zoe. She doesn't just raise awareness of the problem but imagines a way to save lives that exists outside of oppressive structures." —Shelbi Polk, Shondaland
"Who needs a standard plot when you can write as exquisitely as Brenda Lozano? . . . The women reveal themselves, through stories of mothers, daughters, sisters, lovers—men are essential but peripheral, often dangerous—in a rhythm that enchants and floats the story forward, confirming the capacity of words to cast a powerful spell." —Cat Auer, The A.V. Club
"A terrific read from a writer who explores the power of the feminine in a world set on narrowly defining and belittling it." —Sarah Neilson, A Them Best Book of Summer
"Readers of Fernanda Melchor's form-busting, psychedelic takes on recent South American history won't want to miss Brenda Lozano's Witches . . . Heather Cleary fluidly translates Lozano's spiky narrative, immersing readers in its horrors without obscuring its beauties." —Chicago Review of Books

"Vivid . . . Lozano is a keen observer who brings two very different worlds to the page with vibrant passages and a lot of heart. Work in translation is crucial because it opens doors to other places, ideas, identities, and cultures, and that's what this novel accomplishes very well." —Gabino Iglesias, Locus
"Witches is a glorious novel about gender-nonconforming people who brave a hostile world to be themselves." —Eileen Gonzalez, Foreword Reviews
"Lozano published [Witches] amid a cultural crisis in Mexico as fury over femicide reached a crescendo. Translator Cleary has made a Herculean effort to craft an equivalent experience for English readers to offer 'a chance to connect across and through differences' in the spirit of Lozano's memorable tale." —Booklist
"One of the most striking voices of a new generation of Latin American writers." —Pierce Alquist, Book Riot
"Beautifully rendered, this is a book to meditate over and perhaps reread." —Library Journal
"Lozano does a wonderful job distinguishing the disparate characters and their fluid identities, and Cleary's translation strikes the perfect balance of immersion and clarity. Powerful and complex, this marks a new turn from an intriguing writer." —Publishers Weekly
"Lozano eschews traditional narrative for the discursive pleasures of voice . . . A fascinating immersion into a little-known world, written with tenderness and humanity." —Kirkus Reviews (starred review)
"Potent and intriguing . . . The women's stories dovetail, with echoing experiences of sisterhood, motherhood, purpose, and gendered violence. These elegant streams of consciousness ripple with tantalizing figurative language, eddying together as they flow into one refreshing river of a novel . . . It is heartbreak that this novel seeks to guide readers beyond, becoming itself a healing, meditative space to confront the cruelties of the world." —Dave Wheeler, Shelf Awareness (starred review)
"I've always wanted to encounter a voice like this in literature, a contemporary bruja oaxaqueña, without folklore or cliché, with true feeling, complexity, and poetry. It feels like discovering that Juan Rulfo has transformed into a twenty-first century woman, or better yet, that he has returned as one of the many voices that live in Brenda Lozano. A beautiful, painful, funny, and tender novel." —Francisco Goldman, author of Monkey Boy

"In this gem of a book, Lozano demonstrates a poet's ear for language and a fine attunement to how voice builds character. Taking inspiration from Mexico's quintessential oral poet, healer María Sabina, the zigzagging narratives of its protagonists remind us that psychedelia found its origin in the revelation that buffs the mind clean. Cleary's inspired translation partakes of the same vital spirit." —Mónica de la Torre, author of The Happy End / All Welcome
"Braiding together the voices of two women—a mystic and a skeptic—Witches, to borrow Brenda Lozano's words by way of Heather Cleary's translation, runs into shadows to bring light. This is a story of the world's repeated failure to control feminine power and the sheer magic of language itself. An enthralling, passionate story about secrets both holy and profane." —Catherine Lacey, author of Pew and Nobody is Ever Missing