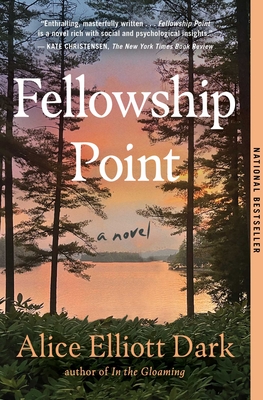 Fellowship Point: A Novel
Publication Date:
May 9th, 2023
Publisher:
S&S/ Marysue Rucci Books
Heartleaf Books
1 on hand, as of Dec 9 7:56pm
(Floor)
On Our Shelves Now
Fellowship Pointwas a joy to read. Alice Elliott Dark has crafted unforgettable characters in a sweeping story of friendship, family, and life as a whole. I hit pause on the real world for a bit and fell deeply in love with this gem of a novel.
July 2022 Indie Next List
Description
"A magnificent storytelling feat" (The Boston Globe) story of lifelong friendship between two very different "superbly depicted" (The Wall Street Journal) women with shared histories, divisive loyalties, hidden sorrows, and eighty years of summers on a pristine point of land on the coast of Maine, set across the arc of the 20th century.
Celebrated children's book author Agnes Lee is determined to secure her legacy—to complete what she knows will be the final volume of her pseudonymously written Franklin Square novels; and even more consuming, to permanently protect the peninsula of majestic coast in Maine known as Fellowship Point. To donate the land to a trust, Agnes must convince shareholders to dissolve a generations-old partnership. And one of those shareholders is her best friend, Polly.
Polly Wister has led a different kind of life than Agnes: that of a well-off married woman with children, defined by her devotion to her husband, a philosophy professor with an inflated sense of stature. She strives to create beauty and harmony in her home, in her friendships, and in her family. Polly soon finds her loyalties torn between the wishes of her best friend and the wishes of her three sons—but what is it that Polly wants herself?
Agnes's designs are further muddied when an enterprising young book editor named Maud Silver sets out to convince Agnes to write her memoirs. Agnes's resistance cannot prevent long-buried memories and secrets from coming to light with far-reaching repercussions for all.
"An ambitious and satisfying tale" (The Washington Post), Fellowship Point reads like a 19th-century epic, but it is entirely contemporary in its "reflections on aging, writing, stewardship, legacies, independence, and responsibility. At its heart, Fellowship Point is about caring for the places and people we love...This magnificent novel affirms that change and growth are possible at any age" (The Christian Science Monitor).
Praise for Fellowship Point: A Novel
"It is very much an epic read, a book for readers who want to settle in for a story at a near whopping 600 pages by the author of one of my favorite short stories ever, 'In the Gloaming.'"
—John Searles, NYTimes-Bestselling Author of Strange but True, via The Today Show "5 Summer Reads You Won't Want to Put Down"
"A sweeping story of lifelong best friends...you will surely want to read this book. Elegantly structured, beautifully written, and altogether diverting, with a powerful message about land ownership in America."
—Kirkus (Starred Review)
"Dark (Think of England) celebrates women's friendships and artistic mentorship in this expansive yet intimate novel. The families and their grudges and grievances fill a broad canvas, and within it Dark delves deeply into the relationships between Agnes and her work, humans and the land, mothers and children, and, most indelibly, the sustenance and joy provided by a long-held female friendship. It's a remarkable achievement."
—Publishers Weekly (starred review)
"Fellowship Point is a marvel. Intricately constructed, utterly unique, this novel set on the coast of Maine is filled with insights about writing, about the perils and freedoms of aging, about the great mysteries, as well as the pleasures, of life. The story about the relationships between three women unfolds, as life does, through joys and losses, confrontations and confessions, with twists along the way that change your perception of all that came before. This is a world is so closely and acutely observed that I felt I lived in it. I was sorry to leave."
—Christina Baker Kline, #1 New York Times bestselling author
"I can't remember the last time I've fallen so hard for a book. Fellowship Point is about many things: friendship, secrets, legacy, love, family—but the true magic here is in the writing. Alice Elliott Dark has conjured a world so immersive I can still feel it in my bones. I mourned the finish, when I would have to leave behind the characters I grew to love. This captivating, unforgettable novel is thrillingly good." — Cynthia D'Aprix Sweeney, New York Times bestselling author of Nest and Good Company
"Fellowship Point is deeply relevant in its concerns—about the land, the creatures who inhabit it, and the legacies of ownership, stewardship, and friendship—but it's also just a great, absorbing, and transformative read.  Like a Maine glade, Dark's book is filled with light." 
—Jo Ann Beard, author of Festival Days and In Zanesville
"I positively inhaled this novel--and then stingily meted out the last few pages, not wanting it to end. FELLOWSHIP POINT is a marvel--masterfully executed, beautifully layered, huge-hearted and sharp-witted--and Alice Elliott Dark is a writer of great empathy and incredible skill."  
—Claire Lombardo, New York Times Bestselling author of The Most Fun We Ever Had
"I fell into Fellowship Point--fell in step and in love with its characters, with its landscape, with its ideas about art and marriage and, above all, friendship. It's a beautifully passionate book about what it means to love a place and to love all the people of your life, and how life itself is a riveting plot and deep mystery." 
—Elizabeth McCracken, New York Times bestselling author of Bowlaway and The Giant's House 
"Alice Elliott Dark is a writer I've long admired. With the splendid, engrossing Fellowship Point she has written a novel that is both sweeping and intimate as it deftly explores friendship, class, and the tricky nature of time."
—Meg Wolitzer, New York Times bestselling author of The Female Persuasion and The Interestings
"This is a virtuosic performance, indisputably a work of genius, but even fervent adjectives can't capture the almost numinous effect of reading these pages. In Fellowship Point, one feels oneself in the rare presence of the truly sublime. Every exactingly described gesture, every bit of inspired characterization, every gorgeous sentence is run through an obsessive mind grappling indefatigably with the weightiest materials: the powerful gravity of enduring relationships and the psychic costs of managing them; the sometimes-crushing conflict between duty to self and responsibility to others; and the desperate urge to conserve a small corner of a stressed-out planet and defend a worthy way of life from extinction. The equal manner in which the past and present, like overlaid supersaturated transparencies, come so vividly to bloom in one book recalls the bottomless ambitions of the timeless greats—which is fitting, as Alice Elliott Dark is one of the best writers working in English today."  
—Matthew Thomas, New York Times bestselling author of We Are Not Ourselves 
"I loved Fellowship Point so intensely and so tremendously, I'm struggling to find words that capture its brilliance. At once a rich, deeply felt investigation of female friendship and a bold novel of ideas, Fellowship Point offers the most profound pleasures. It reminded me of my favorite novels—those I return to, over and over—Great Expectations, Howards End, Middlemarch. I wanted to live inside it forever." 
—Joanna Rakoff, author of My Salinger Year 
"I've just sat up nearly all night finishing Alice Dark's Fellowship Point. Dark took over a decade to craft this magnificent novel, and the result is an instant classic: an epic tale of love, family, friendship, literature, and the American landscape, laid out on the capacious scale of a nineteenth-century classic, yet effortlessly contemporary in its voice. Tracing her story over decades and generations, Dark offers a portrayal of the complex inner worlds of three extraordinary women with an unerring insight that rivals that of Edith Wharton, or Elena Ferrante. Replete with humor, irony, gimlet-eyed observation of social mores, and a deep underlying spirituality, it's a novel so immersive you don't just read it, but practically move into it, like one of the rambling, shingled summer "cottages" that come to life in its pages. We readers emerge at the end with a deep nostalgia for the wind-battered pines, lingering ghosts, and imperiled eagles' nests of Dark's unforgettable Maine coast."
—Andrea Lee, author of Red Island House