Discounted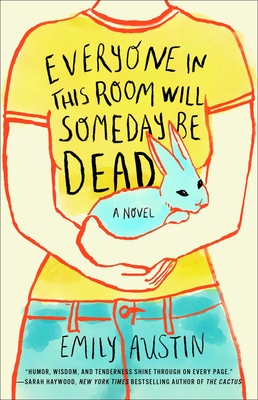 Everyone in This Room Will Someday Be Dead: A Novel
Previous price:

$17.99
Current price:

$17.00
Publication Date:
June 28th, 2022
Publisher:
Washington Square Press
Heartleaf Books
1 on hand, as of Dec 9 7:56pm
(Floor)
On Our Shelves Now
Gilda never wants to disappoint anyone, which is exactly how she ends up with a job as a secretary at a Catholic church. As a gay atheist, it's problematic. Alternatively hilarious and tragic, Gilda's story is one that stays with you.
July 2021 Indie Next List
Description
In this "fun, page-turner of a novel" (Sarah Haywood, New York Times bestselling author) that's perfect for fans of Mostly Dead Things and Goodbye, Vitamin, a morbidly anxious young woman stumbles into a job as a receptionist at a Catholic church and soon finds herself obsessed with her predecessor's mysterious death.
Gilda, a twenty-something, atheist, animal-loving lesbian, cannot stop ruminating about death. Desperate for relief from her panicky mind and alienated from her repressive family, she responds to a flyer for free therapy at a local Catholic church, and finds herself being greeted by Father Jeff, who assumes she's there for a job interview. Too embarrassed to correct him, Gilda is abruptly hired to replace the recently deceased receptionist Grace.
In between trying to memorize the lines to Catholic mass, hiding the fact that she has a new girlfriend, and erecting a dirty dish tower in her crumbling apartment, Gilda strikes up an email correspondence with Grace's old friend. She can't bear to ignore the kindly old woman who has been trying to reach her friend through the church inbox, but she also can't bring herself to break the bad news. Desperate, she begins impersonating Grace via email. But when the police discover suspicious circumstances surrounding Grace's death, Gilda may have to finally reveal the truth of her mortifying existence.
With a "kindhearted heroine we all need right now" (Courtney Maum, New York Times bestselling author), Everyone in This Room Will Someday Be Dead is a crackling and "delightfully weird reminder that we will one day turn to dust and that yes, this is depressing, but it's also what makes life beautiful" (Jean Kyoung Frazier, author of Pizza Girl).
Praise for Everyone in This Room Will Someday Be Dead: A Novel
"The perfect blend of macabre and funny." —Buzzfeed
"Hilarious, relatable, exasperating, and endearing. For all readers of fiction." —Library Journal
"Exuberant.... a brisk story underpinned by a vibrant cast." —Publishers Weekly
"Readers will find themselves rooting for the lovable but traumatized heroine." —Kirkus
"Gilda's overwhelming questions about the nature of existence don't go away; transformed by love, they turn into wonder instead." —New York Times Book Review
"A luminous novel, whose humour, wisdom and tenderness shine through on every page. Emily Austin writes with a perfectly-gauged lightness of touch, deftly balancing perceptive musings on life and death with scenes that make you laugh out loud. I was utterly charmed by the kind-hearted but morbidly anxious Gilda, a woman whose self-conscious overthinking leads her into the oddest of predicaments. The way she ties herself in ever-tighter knots trying to fit in and please everyone is something we can all relate to. Everyone in This Room Will Someday be Dead hits that sweet spot: a fun, page-turner of a novel that engages both heart and head. I was captivated by it." —SARAH HAYWOOD, New York Times bestselling author of The Cactus
"Everyone in this book will touch your heart. Austin's writing is spare yet exciting, each page sparkles with keen observation about the fleeting nature of life, yes, but also our profound ability to make lasting impact on those around us. I already can't wait to read what she writes next." —STEVEN ROWLEY, New York Times bestselling author of The Guncle 
"Gilda is the anxious queer hero who I didn't know that I needed, a delightfully weird reminder that we will one day turn to dust and that yes, this is depressing, but it's also what makes life beautiful, why it's important to say what we mean, do what we want, love as best as our crooked hearts will allow us to while we still can. I will read whatever Austin puts in front of me until I'm six feet under." —JEAN KYOUNG FRAZIER, author of Pizza Girl   
"Introducing the bumbling, anxious, helplessly kindhearted heroine we all need right now. Gilda might be an accidental Catholic, a lapsed lesbian, and an inept receptionist, but she's awfully good at helping us reckon—hilariously, tenderly—with our impending deaths." —COURTNEY MAUM, New York Times bestselling author of I Am Having So Much Fun Here Without You and Touch
"Gilda, Emily Austin's anxious and endearing hero, is a dream. It's impossible not to root for her as she navigates love, religion, mental health and everything in between. Too often our heroes are bigmouths who take up outsized space in the world. Everyone In This Room Will Someday Be Dead redefines bravery, giving comfort to those who, like Gilda, struggle mightily with big hearts in a world that, to paraphrase the great Margaret Atwood, is full of bastards trying to get you down. Turn to any page in this lovely debut and you'll meet a tsunami of joy." —ANDREW DAVID MACDONALD, bestselling author of When We Were Vikings
"Anxious death-obsessed lesbians unite! I cackled and cringed in recognition while following the exploits of Gilda, who is plagued by intrusive thoughts about death and the absurdity of the human condition. Emily Austin is a unique and wry writer, and her debut novel manages to be both hilarious and profound, a winning combination." —CELIA LASKEY, author of Under the Rainbow
"My god - this book starts with a literal bang and keeps on going, straight through the heart of American anxiety, exploring the self-imposed experience of being a terrified human in a world with other terrified humans. It's so vivid and so good." —AMBER SPARKS, author of And I Do Not Forgive You: Stories and Other Revenges
"There's some strange magic at play here. A book about the anxiety of being someone else that possesses a genuine warmth and comfort? A book about death and depression that's laugh-out-loud funny? A book written in straightforward unadorned prose that nonetheless feels entirely distinctive? I don't know how Emily Austin does what she does, and honestly I don't care. I just want more." —SEAN ADAMS, author of The Heap