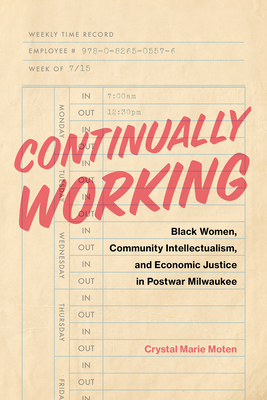 Continually Working: Black Women, Community Intellectualism, and Economic Justice in Postwar Milwaukee (Black Lives and Liberation)
Publication Date:
March 15th, 2023
Publisher:
Vanderbilt University Press
Usually Ships in 1 to 5 Days
Description
Continually Working tells the stories of Black working women who resisted employment inequality in Milwaukee, Wisconsin, from the 1940s to the 1970s. The book explores the job-related activism of Black Midwestern working women and uncovers the political and intellectual strategies they used to critique and resist employment discrimination, dismantle unjust structures, and transform their lives and the lives of those in their community.
Moten emphasizes the ways in which Black women transformed the urban landscape by simultaneously occupying spaces from which they had been historically excluded and creating their own spaces. Black women refused to be marginalized within the historically white and middle-class Milwaukee Young Women's Christian Association (MYWCA), an association whose mission centered on supporting women in urban areas. Black women forged interracial relationships within this organization and made it, not without much conflict and struggle, one of the most socially progressive organizations in the city. When Black women could not integrate historically white institutions, they created their own. They established financial and educational institutions, such as Pressley School of Beauty Culture, which beautician Mattie Pressley DeWese opened in 1946 as a result of segregation in the beauty training industry. This school served economic, educational, and community development purposes as well as created economic opportunities for Black women. Historically and contemporarily, Milwaukee has been and is still known as one of the most segregated cities in the nation. Black women have always contested urban inequality, by making space for themselves and others on the margins. In so doing, they have transformed both the urban landscape and urban history.