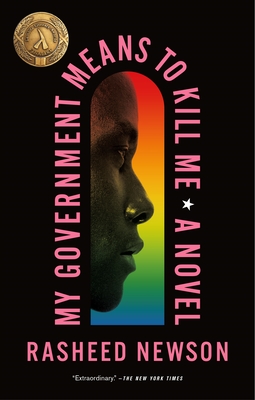 My Government Means to Kill Me: A Novel
Publication Date:
August 22nd, 2023
Publisher:
Flatiron Books
Heartleaf Books
1 on hand, as of Dec 9 7:56pm
(Floor)
On Our Shelves Now
Description
A NEW YORK TIMES NOTABLE BOOK · A NEW YORK TIMES BOOK REVIEW EDITOR'S CHOICE · 2022 LAMBDA LITERARY PRIZE FOR GAY FICTION FINALIST
The debut novel from television WRITER/PRODUCER OF THE CHI, NARCOS, and BEL-AIR tells a fierce and riveting queer coming-of-age story following the personal and political awakening of a young, gay, Black man in 1980s New York City.
"Consistently engrossing." —New York Times Book Review
"Full of joy and righteous anger, sex and straight talk, brilliant storytelling and humor... A spectacularly researched Dickensian tale with vibrant characters and dozens of famous cameos, it is precisely the book we've needed for a long time." —Andrew Sean Greer, Pulitzer Prize-winning author of Less
Earl "Trey" Singleton III arrives in New York City with only a few dollars in his pocket. Born into a wealthy Black Indianapolis family, at 17, he is ready to leave his overbearing parents and their expectations behind.
In the city, Trey meets up with a cast of characters that changes his life forever. He volunteers at a renegade home hospice for AIDS patients, and after being put to the test by gay rights activists, becomes a member of the AIDS Coalition to Unleash Power (ACT UP). Along the way Trey attempts to navigate past traumas and searches for ways to maintain familial relationships—all while seeking the meaning of life amid so much death.
Vibrant, humorous, and fraught with entanglements, Rasheed Newson's My Government Means to Kill Me is an exhilarating, fast-paced coming-of-age story that lends itself to a larger discussion about what it means for a young gay Black man in the mid-1980s to come to terms with his role in the midst of a political and social reckoning.
Praise for My Government Means to Kill Me: A Novel
"Extraordinary…shines a vivid light onto underappreciated aspects of our history through the life of a gay Black teenager…The book's greatest charm lies in the sensitivity and subtlety of its narrative." —The New York Times Book Review
"This book is a truly unique queer coming-of-age novel." —Buzzfeed
"In this debut novel, a queer young Black man leaves behind his comfortable family life in Indianapolis and heads to New York in the 1980s, which provides a thrilling, occasionally enraging, political and societal backdrop for his coming-of-age." —The New York Times
"My Government Means to Kill Me is an action-packed, entertaining inside look at the life of a young political rebel. Written with unflinching tenderness, Newson gives us an honest and compelling portrait of a gay Black man coming of age." —Matthew A. Cherry, Academy Award-winning director of Hair Love
"Hilarious, heartbreaking, and sexy as all get out." —Ayelet Waldman, author of Love and Treasure
"Fresh, vibrant and utterly unapologetic. Rasheed Newson has written an unforgettable, take-no-prisoners novel alive with humor and full of urgency. Newson's Trey and his determination to live life on his own terms, even in the face of death all around him, brings into three dimension an era of New York Queer life that, too often, has been flattened and whitewashed by history." —Xochitl Gonzalez, author of New York Times bestseller Olga Dies Dreaming
"Delightful and fast-paced, a fascinating narrative of queer activism during the AIDS epidemic." —Kirkus
"Newson's attention to historical details gives this moving novel a sense of urgency and immediacy." —Book Riot
"An episodic narrative about learning to navigate the world, this novel is both hilarious and angry."
—The Boston Globe
"A powerful story about Trey, a young, gay, Black man in 1980s New York City as he comes of age personally and politically. Newson's writing is crisp and clear, witty and engrossing—the kind of prose that pulls you in so quickly you'll miss your subway stop." —Lit Hub

"Newson's debut is an audacious, vibrant Ragtime-esque ride through the sordid sanctuary of AIDS-era New York, a book about sex and activism and the power we have to liberate ourselves." —Electric Literature
"This book should charm its way onto lots of best books of the year lists." —Philadelphia Inquirer
"A fast-moving and riveting examination of what it means to build a life in the middle of a deadly epidemic." —Arlington Magazine
"My Government Means to Kill Me is not only a brilliant historical novel of those times, it is a bold statement of how someone who could have been an outcast doesn't settle for being left out." —Daily Kos
"From its use of footnotes to the historical figures that appear, the Bel Air co-showrunner's historical fiction debut delivers education and fun in equal measure." —Entertainment Weekly
"Equal parts humor and heartbreak, masterfully fictionalizing real details to produce a deeply engaging but also heavily researched Bildungsroman." —them
"Fiction that matters and is likely to endure." —Bay Area Reporter
"Crackling...an expertly-paced read." —Electric Literature
"Proof that writers can revere and play with history at the same time...Newson's prose is engaging and entertaining, and he captures the dynamics of found families." —BookPage