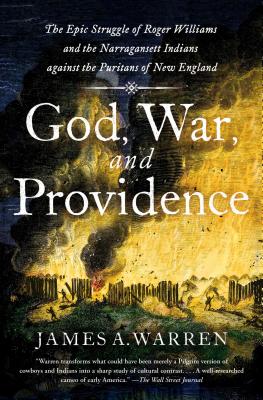 God, War, and Providence: The Epic Struggle of Roger Williams and the Narragansett Indians against the Puritans of New England
Publication Date:
June 18th, 2019
Usually Ships in 1 to 5 Days
Description
The tragic and fascinating history of the first epic struggle between white settlers and Native Americans in the early seventeenth century: "a riveting historical validation of emancipatory impulses frustrated in their own time" (Booklist, starred review) as determined Narragansett Indians refused to back down and accept English authority.
A devout Puritan minister in seventeenth-century New England, Roger Williams was also a social critic, diplomat, theologian, and politician who fervently believed in tolerance. Yet his orthodox brethren were convinced tolerance fostered anarchy and courted God's wrath. Banished from Massachusetts Bay Colony in 1635, Williams purchased land from the Narragansett Indians and laid the foundations for the colony of Rhode Island as a place where Indian and English cultures could flourish side by side, in peace.
As the seventeenth century wore on, a steadily deepening antagonism developed between an expansionist, aggressive Puritan culture and an increasingly vulnerable, politically divided Indian population. Indian tribes that had been at the center of the New England communities found themselves shunted off to the margins of the region. By the 1660s, all the major Indian peoples in southern New England had come to accept English authority, either tacitly or explicitly. All, except one: the Narragansetts.
In God, War, and Providence "James A. Warren transforms what could have been merely a Pilgrim version of cowboys and Indians into a sharp study of cultural contrast…a well-researched cameo of early America" (The Wall Street Journal). He explores the remarkable and little-known story of the alliance between Roger Williams's Rhode Island and the Narragansett Indians, and how they joined forces to retain their autonomy and their distinctive ways of life against Puritan encroachment. Deeply researched, "Warren's well-written monograph contains a great deal of insight into the tactics of war on the frontier" (Library Journal) and serves as a telling precedent for white-Native American encounters along the North American frontier for the next 250 years.
Praise for God, War, and Providence: The Epic Struggle of Roger Williams and the Narragansett Indians against the Puritans of New England
"Warren's well-written monograph contains a great deal of insight into the tactics of war on the frontier." —Library Journal
"In the long and sorrowful history of Native American resistance to white encroachment, no episode raises more perplexing questions than that in which the Narragansett tribe forged a seventeenth-century alliance with the white religious dissidents of Rhode Island for their mutual protection against New England's Puritans…A riveting historical validation of emancipatory impulses frustrated in their own time." —Booklist, starred review
"Warren distinguishes himself by trying to understand all the motives of the principal players in this sad, sanguinary drama….There are several simultaneous stories going on, and the author handles them all deftly." —Kirkus Reviews
"An engaging history of the long struggle between the Puritan oligarchy and New England's most important Indian tribe, in which Roger Williams, America's first advocate of religious freedom, played a vital role. Williams established Rhode Island as a refuge from Puritan domination, and a place where Indian and English settlers could live side by side, in peace.  If you want to know about the origins of religious diversity and cultural pluralism in America, read this compelling book." —Chester Gillis, Professor of Theology, Georgetown University
"A noted military historian trains his critical sights on Puritan New England, while putting up a staunch defense of Roger Williams, Rhode Island, and the Narragansett Indians.  In this compelling story, James Warren portrays Williams as a man of peace in violent times, an intellectual whose ideas were often strikingly modern.  Now recognized as a champion of religious liberty and the separation of church and state, Williams also earns Warren's praise for his pioneering ethnographic research, his fair treatment of Native Americans, and his deft maneuvering to assure the survival of a tiny but tolerant colony." —Professor Patrick M. Malone, Brown University, author of The Skulking Way of War
"In God, War, and Providence, James Warren accomplishes many tasks: he adds to the far too brief historiography of the small, radical colony that helped to shape the philosophical underpinnings of this nation; he renders comprehensible the complex relationships of 17th century religious dissenters and Native Americans; and he exposes his readers to the challenges of researching the Colonial Era—a scant and untrustworthy written record and even fewer records that capture the Native American perspective.  And all the while he does this is an engaging and enjoyable narrative that is a pleasure to read." — C. Morgan Grefe, PhD, Executive Director, Rhode Island Historical Society